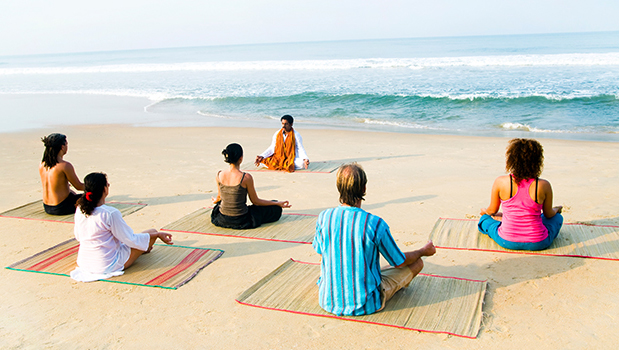 Van boot camps tot mind-body retreats, vakanties waarin gezondheid centraal staat zijn helemaal hip.
Sightseeing of op het strand liggen niksen? De vakanties van nu zien er totaal anders uit. Steeds meer vakantiegangers gebruiken hun vrije tijd om aan hun gezondheid te werken. Niet zo gek, als je bedenkt dat we het met z'n alleen steeds drukker krijgen. Die ontspanning heb je gewoon nodig. Wil je ook zo'n vakantie? Aanbieders zijn er genoeg, gewoon een rondje googelen!
Je hoofd weer leeg
Meditatie-vakanties zijn ideaal als je even wilt ontsnappen aan de dagelijkse stroom van informatie. Eenmaal op plaats van bestemming gaat je laptop aan de kant en je mobiel op standje vliegtuig. Tijdens zo'n vakantie zul je stilte ervaren en leren mediteren en daarnaast tips mee krijgen om ook thuis met mindfulness aan de slag te gaan. Andere ingrediënten: yogalessen met zonsopgang, tai chi, aromatherapie-massages en biologische maaltijden.
Meer activiteit in je leven
Zit je de hele dag achter de computer of is je agenda zo volgepropt dat je nauwelijks nog tijd hebt om te sporten? Dan kun je wel een steuntje in de rug gebruiken. Misschien is een vakantie waarin in- en ontspannende activiteiten worden georganiseerd dan wel iets voor jou. Denk aan bergbeklimmen en suppen, maar ook massages en natuurlijk gezonde, biologische maaltijden.
In 't gareel
Door de drukte van alledag laat je jezelf wel eens gaan – en dat heeft dan meteen invloed op je gezondheid. Kamp je met gezondheidsproblemen of moet je bijvoorbeeld afvallen, dan zijn er tour operators die daar speciaal vakanties voor organiseren. Wat je kunt verwachten: uitgebalanceerde maaltijden, een fitnessroutine en massages – allemaal afgestemd op jouw wensen. Het uitgangspunt is dat je aan het eind van je vakantie tips hebt gekregen om thuis je nieuwe eet- en beweegpatroon vast te houden.
Jij staat centraal
In het leven ben je vaak bezig met anderen – en dat is ook belangrijk. Maar voor je het weet, cijfer je jezelf helemaal weg. Het kan dan heel goed voor je zijn om een mindfulness-vakantie te boeken. Het is de ideale manier om even stil te staan hoe het met jou gaat. Hoe je dat doet? Met ontspannende activiteiten als yoga, meditaties en massages. Vaak ontbreken lekkere maaltijden en goede wijn tijdens dit soort reizen niet. Ze staan tenslotte in het teken van het leven vieren.