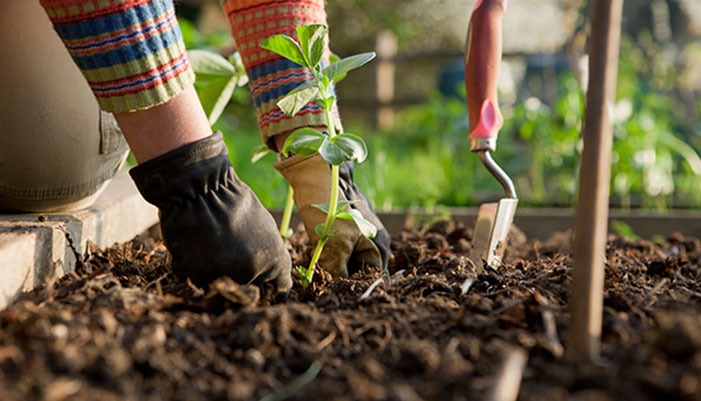 Begin een moestuintje! Daar krijg je verse groenten, geluk en ontspanning voor terug.
Altijd al een moestuin willen hebben? Ga ervoor! Onderzoek wijst uit dat tuinieren goed is voor je gezondheid. Zo krijg je al van 30 minuten tuinieren per week meer energie en ervaar je minder stress. Daarnaast is het goed voor je gevoel van eigenwaarde en blijf je beter op gewicht. Nog nooit getuinierd? Geeft niets: met deze tips kan iedereen aan de slag.
Zoek de zon op
Veel groenten hebben minstens 6 tot 8 uur direct zonlicht per dag nodig, houd dat in gedachten als je planten in de grond zet of gaat zaaien. Krijgen de planten te weinig zonlicht, dan kun je er minder van oogsten en is de kans op plantenziekten groter.
Begin klein
Misschien droom je wel van lange, nette rijen groenten in je tuin. Toch raden we je aan om klein te beginnen. Zo leer je wat de beste plek is voor je planten en hoeveel werk er nodig om je tuintje te onderhouden.
Verwen de grond
De meeste groenten houden van vochtige grond die rijk is aan biologische stoffen (zoals compost). Vul je planten of groentebedden met moestuingrond. Geef je planten regelmatig water zodat de grond vochtig blijft. Als de bovenkant van de grond droog is, is het tijd om water te geven.
Kies je favorieten
Bepaal welke groenten je gaat verbouwen. Niet vergeten: van sommige groenten, zoals tomaten, pompoen en paprika's kun je het hele seizoen door oogsten, terwijl andere maar een keer geoogst kunnen worden, zoals wortel en radijs.
Alvast een beginnetje
Wil je zelf je groenten verbouwen van zaadje tot aanrecht, dan kun je zelf zaaien. Dat kost alleen wel wat meer tijd. Wil je wat sneller resultaat zien? Koop dan jonge planten. Het tuincentrum staat er vol mee tegenwoordig, en je kunt dan redelijk snel oogsten.