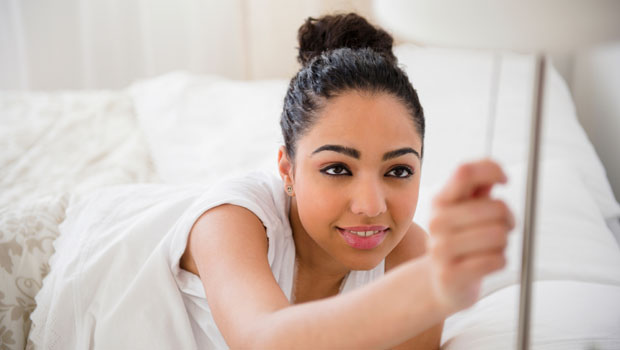 Vanavond lekker slapen. En morgenavond ook. En de avond daarna. Zzzzz...
Betere weerstand, fit op je werk en dáág extra kilootjes. Het enige wat je daarvoor hoeft te doen is slapen. Slapen? Ja, een goede nachtrust is essentieel voor je gezondheid – zowel lichamelijk als mentaal. De meeste mensen slapen onvoldoende. We hebben tussen de 7 en 9 uur slaap per nacht nodig om goed te kunnen functioneren. Lig jij 's nachts wakker? Met deze 4 tips ben je zo in dromenland.
Laat de cafeïne staan
Die kop koffie 's morgens is heerlijk als je moeilijk op gang komt, maar het nadeel is dat het zo'n 10 uur duurt voordat de cafeïne je lichaam weer heeft verlaten – en probeer dan maar eens te gaan slapen… Drink daarom een uur of 10 vóór je bedtijd een laatste kop koffie. Cafeïne is trouwens niet het enige dat je wakker kan houden. Ook cola (met cafeïne), energiedrankjes, thee en zelfs chocola kunnen ervoor zorgen dat je tot diep in de nacht naar het plafond ligt te staren.
Eet op tijd
Wist je dat (te) laat eten je ook uit je slaap kan houden? Je lichaam doet er ongeveer 4 uur over om een maaltijd te verteren – en als je dan in bed ligt, is dat niet heel fijn. Als het kan, eet dan 's avonds wat eerder, zodat je lichaam ruim de tijd heeft om alles te verteren. Lukt dat niet, kies dan voor een lichtere avondmaaltijd.
Zet jezelf 'uit'
We doen het allemaal: in bed nog even Facebook of de werkmail checken. Maar door naar een scherm te staren, blijf je wél wakker. Dat komt doordat je hersenen nieuwe informatie te verwerken krijgen en in het slechtste geval zijn dat ook nog eens dingen waar je over gaat piekeren. Leg je smartphone weg en lees een boek of luister naar muziek. Of denk aan iets ontspannends, zoals een middagje strand of een rondje op de golfbaan.
Zet de thermostaat een paar graden lager
Tot slot nog een heel makkelijke tip. De ideale temperatuur in de slaapkamer is 18 ̊C. Daardoor gaat je lichaamstemperatuur naar beneden en word je vanzelf slaperig. Kun je de temperatuur niet verlagen – in de zomer bijvoorbeeld – dan kun je altijd nog een bevroren gelpack in een handdoek wikkelen en dit in je kussensloop stoppen. Je hoeft daar niet met je hoofd bovenop te gaan liggen, maar een koel hoofd zorgt ervoor dat je sneller in slaap valt.