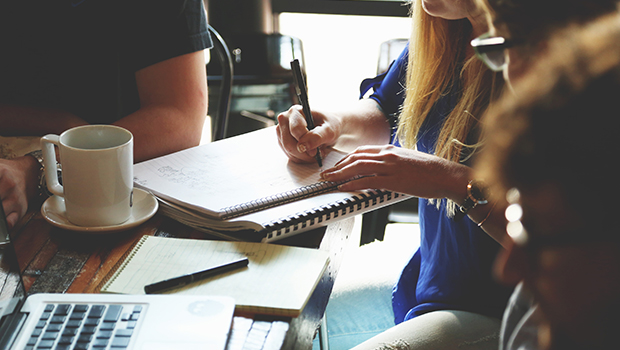 Wie gaat studeren, krijgt opeens veel op z'n bord. Misschien ga je wel (ver weg) op kamers wonen, eet je ineens op andere tijden dan normaal en heb je een overvolle agenda. Een gezonde levensstijl kan dan een hele uitdaging zijn. Met deze tips lukt het wél – ook handig voor ná je studie.
Eten
• Check de grootte van je porties. Eet je regelmatig in een 'all you can eat'-restaurant, dan eet je al gauw te veel. Eet kleine porties, dan hoef je na je studie niet die overtollige kilo's te verliezen.
• Lekkere trek? Zorg voor gezonde snacks. Neem fruit of een handje noten mee als je een drukke dag voor de boeg hebt. Dan grijp je niet naar die chocoladereep als je trek krijgt.
• Drink water. Verwar dorst niet met trek. Door voldoende te drinken, kun je je beter concentreren. Zorg dat je altijd een flesje water bij je hebt.
Sporten
• Neem de fiets of ga lopen en laat het openbaar vervoer links liggen.
• Zoek een sportmaatje. Je zegt minder snel af als je weet dat iemand erop rekent dat je komt. Bovendien is samen sporter leuker.
• Doe mee met een groepsles. Misschien organiseert jouw universiteit of school wel groepslessen. Zo ontmoet je nieuwe mensen en je wordt nog fit ook.
Slapen
• Als het even kan, zorg dan dat je voldoende nachtrust krijgt. Gemiddeld heb je 7 tot 9 uur slaap nodig om overdag genoeg energie te hebben.
• Studeer niet in bed. Houd je slaapplek en je werkplek gescheiden. Dat voorkomt slapeloosheid. Ook doen: je laptop, mobiel en andere devices uit je slaapkamer verbannen. Dan word je ook niet afgeleid.
• Ontwikkel een ritme. Probeer elke avond rond dezelfde tijd naar bed te gaan en elke dag rond dezelfde tijd op te staan. Je lichaam went daar aan.
Stress
• Ga stress niet te lijf door te gaan eten. Wat wel helpt: wandelen, muziek luisteren of mediteren.
• Maak een schema. Je krijgt veel meer gedaan op een dag als je een schema maakt. Plan tijd in om te studeren, sporten én slapen.
• Wees niet te streng voor jezelf. Studeren hoeft niet alléén maar een serieuze aangelegenheid te zijn. Zorg dat er ook tijd overblijft om leuke dingen te doen en je hersenen even rust te geven. Ga naar buiten voor een stevige wandeling, dat geeft nieuwe energie. En maak ook bewust tijd voor ontspanning.