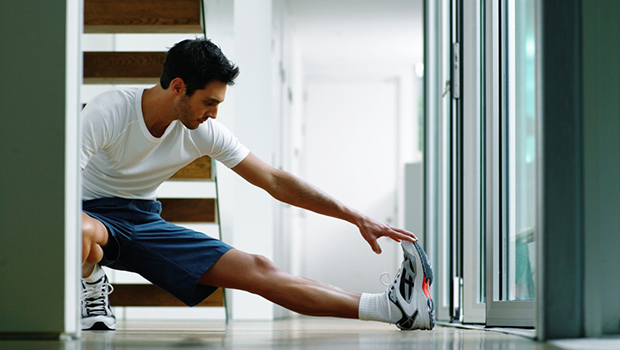 Fit worden kan ook prima thuis. Daar heb je maar een paar spullen voor nodig.
Naar de sportschool gaan helpt zeker om je fitnessdoelen te bereiken, maar het kan ook aardig wat tijd kosten. Denk maar aan reistijd, wachten tot een apparaat vrij en is wachten tot de les begint. Het makkelijkst is om gewoon thuis te sporten wanneer het jou uitkomt.
Voor een effectieve workout heb je niet veel, maar wel wat veelzijdige spullen nodig. Die hoeven niet veel te kosten en je hoeft er ook je woonkamer niet voor te verbouwen. Bij de meeste materialen zit een instructieboekje en ook online kun je veel voorbeeldoefeningen vinden.
Medicijnbal
Waarom: je werkt aan kracht en balans.
Kosten: tussen € 20 en € 40.
Hoe gebruik je hem: til hem op of houd hem voor je terwijl je oefeningen doet. Houd bijvoorbeeld de medicijnbal boven je hoofd terwijl je squats doet. Bij crunches zorgt hij voor extra weerstand. Omdat de bal zo zwaar is, werk je tegelijkertijd aan je balans.
Weerstandsband
Waarom: door de diverse bewegingen werk je aan je kracht en lenigheid.
Kosten: vanaf € 10.
Hoe gebruik je hem: je kunt er alle kanten mee op. Wil je je bovenlichaam trainen, dan houd je hem in je handen. Wil je aan zowel je boven- als onderlichaam werken, dan kun je erop gaan staan. Je bepaalt zelf de mate van weerstand. Hoe korter de afstand van het ene naar het andere punt, hoe meer weerstand. De weerstandsband is ook een perfect hulpmiddel bij rekoefeningen.
Setje dumbbells
Waarom: je werkt aan je kracht.
Kosten: van € 15 tot € 50.
Hoe gebruik je ze: houd ze stevig in je handen en werk aan je bovenlichaam, onderlichaam, je core of een combinatie van de drie, afhankelijk van welke oefening je doet. Van bicep curls tot schouders presses, met dumbbells kun je alle kanten op.
Balansbal
Waarom: maakt van elke oefening een uitdaging, omdat je continu werkt aan je balans en dat is goed voor met name je core.
Kosten: vanaf € 20.
Hoe gebruik je hem: geef jezelf de kans om te wennen aan de bal, in het begin kan het best even moeilijk zijn. Let er bij het kopen van een bal op dat je de maat koopt die bij jouw lichaam past. Als je op de bal zit, moeten je knieën een hoek van 90 ̊ maken. Je kunt met de bal push-ups doen, planken, crunches en hamstring curls.