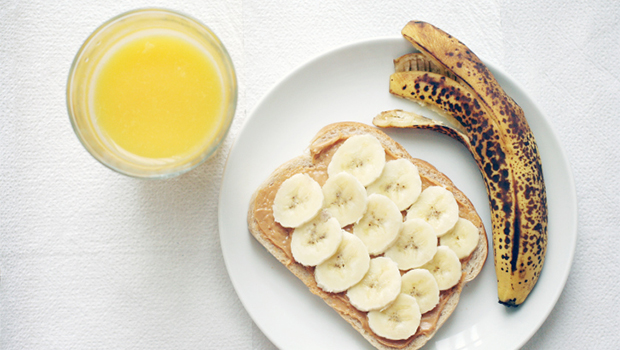 Met deze vijf makkelijke trucjes geef je je gezondheid een flinke boost.
Goed eten en actief zijn: die twee zaken hebben grote invloed op je gezondheid. Maar je kunt nog veel meer doen om fitter te worden.
1. Koolhydraten & proteïnen combineren
Een banaan is hartstikke goed, maar nog beter is een banaan met pindakaas. Door wat proteïnen toe te voegen aan koolhydraten, houd je langer een verzadigd gevoel. Daarnaast voorkomt het lekkere trek. Ander powercombinaties zijn crackers met amandelpindakaas of hummus en havermout met noten.
2. Meer nachtrust
Ben jij een van die mensen die denkt dat-ie niet zo veel slaap nodig hebt? De kans is groot dat dat niet klopt. Door een uurtje meer te slapen, ben je minder snel geïrriteerd, kun je helderder nadenken doe je meer. Bovendien kan voldoende nachtrust het risico op kanker en diabetes verkleinen.
3. Regelmatig even opstaan
Onderzoeken wijzen uit dat langdurig zitten verband houdt met een groter risico op hart- en vaatziekten en diabetes. Dus: sta simpelweg regelmatig op. De hele dag staan is niet echt een optie, maar regelmatig even rondlopen wel. Al is het maar elk uur twee minuten. Heb je een kantoorbaan, voer je telefoongesprekken dan altijd staand en loop regelmatig naar de keuken om je waterfles bij te vullen.
4. Rekken en strekken
Lichte rek- en strekoefeningen zo'n vijf tot tien minuten voordat je naar bed gaat en weer wanneer je opstaat, hebben een positieve invloed: je valt makkelijk in slaap en staat makkelijker op. Doe in bed eens de twist-oefening. Ga op je rug liggen met je rechterknie opgetrokken. Breng je knie naar de linkerkant van je lichaam, draai je hoofd naar rechts en strek je rechterarm opzij met de handpalm naar beneden. Leg je linkerhand op je rechterbeen. Houd 30 seconden vast en herhaal aan de andere kant. Nog een tip: ochtend- en avondmeditatie. Hiermee laat je 's avonds spanning los en geef je jezelf 's ochtends een zetje om te beginnen aan de dag. Heb je nog nooit gemediteerd? Begin klein, met drie tot vijf minuten per dag. Richt je op je ademhaling en adem langzaam in en uit. Dwaalt je geest af, dan is dat niet erg. Breng je gedachten dan opnieuw terug naar je ademhaling.
5. Pak wat zonnestralen
Een paar minuten zon per dag kan al voldoende zijn om je dosis vitamine D binnen te krijgen. Die vitamine is onder andere belangrijk voor je botten. Ga dus kort naar buiten zonder je in te smeren met zonnebrandcrème en loop een rondje in de wijk of tijdens je lunchpauze. Het ligt eraan waar je woont en je huid hoe lang je zonder zonnebrandcrème kan, maar met 10 minuten zit je vrijwel altijd goed. Zorg ervoor dat de zon je huid bereikt, dus: korte mouwen, een korte broek en geen petje.