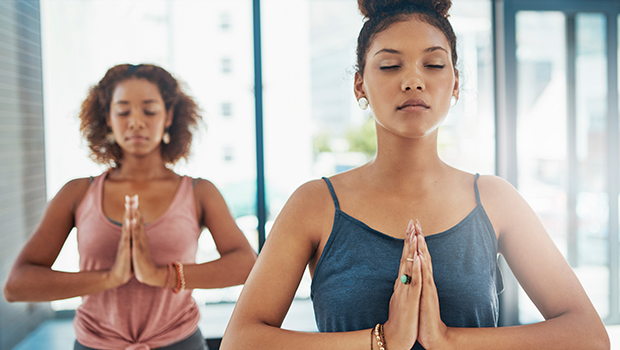 Meditatie is goed voor je lichaam en je geest. Het is makkelijker dan je denkt!
Voel je je gespannen, dan heb je misschien iets aan meditatie. Uren bezig zijn is niet nodig. Zelfs vijf minuten mediteren heeft al een positief effect. En: mediteren betekent echt niet alleen stilzitten met je ogen dicht…
Als je mediteert – op wat voor manier dan ook – neem je even afstand van een lange, drukke dag en richt je je op je lichaam en geest. Zo krijg je nieuwe inzichten en energie, in plaats van dat je op hetzelfde drukke tempo doorgaat.
Probeer eens een van deze drie meditatietechnieken.
Maak de balans op
Maak aan het eind van de dag een lijst van wat je allemaal gedaan hebt: tanden poetsen, broodtrommeltjes vullen voor de kinderen, naar je werk reizen, vergaderingen, de sportschool, telefoontjes… Schrijf vervolgens naast elke activiteit of je er energie van kreeg, of het je energie kostte of dat het neutraal aanvoelde. Sommige dingen zullen logisch zijn, maar misschien zullen andere dingen je verbazen. Wie weet krijg jij wel energie van die keurige lunchpakketjes op het aanrecht – of van de mensen die je elke dag tegenkomt bij de koffiemachine. Probeer om elke dag zo veel mogelijk momenten te beleven die energie opleveren en doe iets positiefs met de momenten die energie kosten. Bijvoorbeeld als je in de file staat. Die rij met auto's kun je niet voorkomen, maar je kunt het moment zelf wel benutten om bijvoorbeeld een podcast of luisterboek af te spelen.
Plan een minimeditatie in
Een minimeditatie kan altijd, of je nu op je bureaustoel zit of in de keuken staat. Wees je bewust van je gedachten. Welke ideeën gaan er door je hoofd en welke emoties ervaar je? Richt je vervolgens op je lichaam, van top tot teen. Waar voel je spanning? Probeer die los te laten. Concentreer je tenslotte op je ademhaling. Hierdoor gaat je aandacht niet langer naar je geest en verschuift je focus. Beantwoord na afloop de volgende vragen: wat heb ik nu nodig en hoe kan ik dit verweven in mijn dag? Zo'n minimeditatie kan je helpen om prettiger die volgende vergadering of de file in te gaan – of wat er dan ook maar op de planning staat.
Met je voeten op de grond
De meeste mensen zitten meer in hun hoofd dan in hun lichaam. Een manier om je gedachten los te laten is door je bewust te zijn van je voeten op de grond, het maakt niet uit of je achter je bureau zit of een wandeling maakt. Je voeten zijn het verste weg van je hoofd, dus probeer te voelen welke delen van je voeten de grond raken. Ben je aan het wandelen, wees je er dan van bewust dat je je gewicht van je ene naar je andere voet verplaatst. Breng je ademhaling in lijn met je stappen of bewegingen.