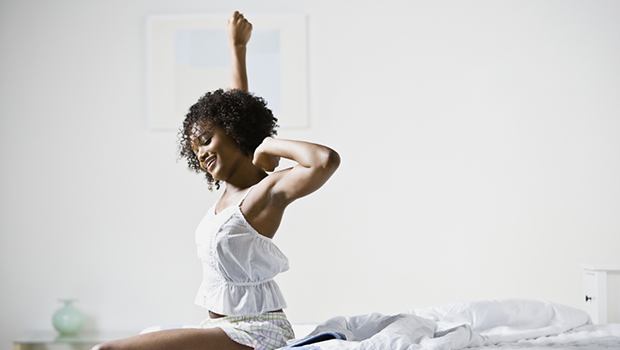 Met deze 4 oefeningen die je altijd en overal kunt doen, krijg je in no time de perfecte houding.
Wil je er 5 kilo lichter uitzien zonder er ook maar iets voor te doen? Kwestie van rechtop gaan staan. Dat scheelt optisch zomaar 2 tot 3 cm taille-omtrek. En dan hebben we het nog niet eens gehad over de voordelen voor je rug en nek. Probeer deze 4 simpele bewegingen eens.
Perfecte houding no 1
Doel: niet 'hangen'
Of je nu zit of staat, probeer je voor te stellen dat er een touwtje tussen je borstbeen en het plafond zit, dat ervoor zorgt dat je ribbenkast niet richting je heupen zakt. Trek vervolgens je schouderbladen naar achteren richting je wervelkolom en duw ze dan iets naar beneden richting je middel. Knijp je schouderbladen samen. Houd 10 seconden vast en ontspan. Doe dit regelmatig.
Perfecte houding no 2
Doel: voorkom inzakken en houd je schouders laag
Breng je handen achter je hoofd en duw je schouders weg van je oren. Duw de achterkant van je hoofd voorzichtig tegen je handen; trek je kin iets in. Voel dat de spieren langs je wervelkolom zich aanspannen. Houd 10 seconden vast. Duw je ellebogen daarna 10 keer terug. Ontspan door je handen voor je vast te pakken en je armen te strekken alsof je je schouderbladen uit elkaar wilt duwen. Houd even vast en laat dan los.
Perfecte houding no 3
Doel: een plattere buik en steun voor je onderrug
Ga zitten of staan en adem diep in, zodat je voelt dat je ribbenkast uitzet. Adem uit door je mond alsof je door een rietje blaast. Doe, terwijl je uitademt, alsof je een strakke spijkerbroek aantrekt en trek je navel naar binnen. Doe dit 10 lange tellen, maar houd je adem niet vast. Laat los en herhaal de oefening.
Perfecte houding no 4
Doel: sterkere rug-, nek- en schouderspieren
Ga op je rug liggen met je knieën gebogen en je voeten op schouderbreedte plat op de vloer. Plaats je armen in een hoek van 45 graden met de handpalmen naar boven. Adem in. Trek tijdens de uitademing je navel naar binnen en duw voorzichtig je onderrug in de vloer. Duw vervolgens het middelste gedeelte van je rug, je bovenrug en de achterkant van je schouders in de vloer. Houd 10 seconden vast en laat los. Herhaal 3 keer.