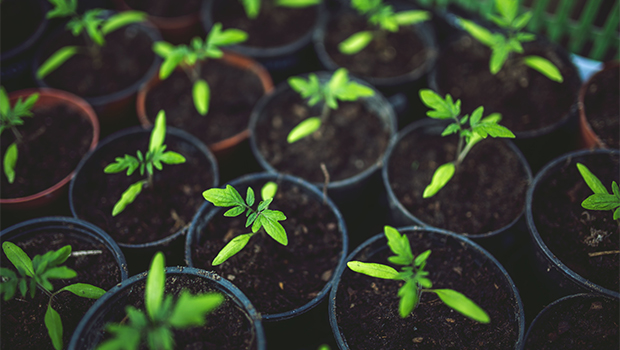 Vers smaakt het allerlekkerst! Probeer daarom eens een kruiden- en groentetuintje aan te leggen in potten en bakken. Daar heb je de hele zomer lang plezier van.
Heb je (nog) geen groene vingers of een klein tuintje, dan kun je heel makkelijk kruiden en groenten kweken in potten. Zelfs het kleinste balkonnetje of een minituin is daar geschikt voor. Eetbare kruiden zijn de moeite waard, omdat ze maar weinig zorg nodig hebben. Bovendien smaken de groenten en kruiden die je zelf gekweekt hebt stukken lekkerder dan wat je in de winkel kunt kopen. Je hebt maar een paar dingen nodig om aan de slag te gaan. Een paar weken na het planten eet je al uit je eigen tuintje.
DIT HEB JE NODIG
Potten en bakken: Voor kruiden heb je potten met een diameter van ongeveer 15 cm of groter nodig. Voor groenten heb je potten nodig met een diameter van zo'n 30 cm. Tomaten en aubergines doen het goed in een grote teil of houten ton. Kies voor betaalbare potten van bijvoorbeeld terracotta, aardewerk of kunststof. Het is belangrijk dat er gaten onderin de pot zitten zodat het overtollige water kan weglopen.
Moestuingrond: Koopgrond zonder chemicaliën waar wat compost en kunstmest in zit. Kies niet voor tuinaarde of grond uit je tuin.
Plantenschep: Je hebt maar één ding nodig: een plantenschep. Kies er eentje die prettig in de hand ligt. Je hebt het schepje nodig om je potten te vullen met aarde en om een kuiltje te maken voor zaailingen en zaadjes.
Rekje: wil je een klimplant kweken, zoals komkommers, erwten or pronkboontjes, dan heb je een eenvoudig rekje nodig van bamboe of metaal om je plant langs te geleiden. De meeste tomaten, zelfs de kleine varianten, doen het beter als je ze omhoog leidt.
Zaailingen of zaadjes: koop zaailingen bij een kweker of kies voor pakjes zaden en zorg dat je informatie hebt over de plant, op een label, het pakje zaden of online. Kies je voor zaailingen, let dan goed op of de plant gezonde blaadjes zonder verkleuringen heeft, een korte sterke stam heeft en niet erg dun is. Daarnaast mag het plantje geen tekenen van ziekten vertonen (kijk ook hoe de blaadjes er aan de onderkant uitzien).
Zonlicht: kies een zonnige plek voor je potten waar je planten minsten 6 uur per dag direct zonlicht krijgen. Maar let op: terrasstenen of cement kunnen heel heet worden, waardoor de aarde snel kan uitdrogen. Misschien moet je af en toe je pot op een plek met halfschaduw zetten (onder een tafel of boom) als je merkt dat je plantjes in de middagzon verleppen.
Water: Geefje planten elke dag water met een gieter of tuinslang (terracotta potten drogen snel uit en hebben misschien wel tweemaal per dag water nodig). Zorg dat de aarde altijd vochtig is (niet doornat).
Kunstmest zonder chemicaliën: Kies voor biologische mest, aangezien je eetbare planten kweekt. Volg de aanwijzingen op de verpakking voor de juiste hoeveelheid en een goed gebruik van de mest.
KIES VOOR DEZE PLANTEN
De keuze voor kruiden en groenten is eindeloos. Begin gewoon met wat je graag eet. Kies voor één soort groente of een kruid per pot. Ben je gek op caprese salade, probeer dan om basilicum en tomaten te kweken. Vaak ratatouille op het menu? Kweek paprika's en courgettes. Eet je bij elke maaltijd salade, plant dan rucola en platte peterselie. Gek op zuur? Kweek komkommers en dille om ze later in te maken.
Bijna elk kruid doet het goed in een pot en geeft smaak aan salades, dressings, voor- en hoofdgerechten. Probeer eens basilicum, bieslook, dille, oregano, peterselie, rozemarijn, salie en tijm. Groenten kweken in een pot vraagt om iets meer kennis, omdat sommige groenteplanten graag klimmen of woekeren of bijvoorbeeld diep wortelen of extreem losse grond nodig hebben. Ben je nog maar net begonnen met tuinieren, probeer dan eens bonen (bij voorkeur sperziebonen maar pronkboontjes doen het goed tegen een klein rekje), kool, komkommer, aubergine, koolrabi, sla en andere bladgroenten, erwten, paprika's, radijs, spinazie en tomaten.
ZO PAK JE HET AAN
Is de nachtvorst voorbij, dan kun je aan de slag. Zoek uit hoe lang het ongeveer duurt voordat je van een plant kunt oogsten, zodat je een beetje een idee hebt van wat er wanneer klaar is.
Vul je pot voor 2/3 full met moestuingrond. Vul je een erg grote pot, zet de pot dan eerst op de definitieve plek en vul hem dan met grond.
Voor zaailingen: maak met je schep een kuil die ongeveer 1,5 keer zo groot is als het potje waar het plantje in zit. Zorg dat de diepte ongeveer gelijk is aan die van het potje. Haal het plantje uit het potje door zachtjes in de zijkanten te knijpen en zo de aarde los te maken of houd het potje op z'n kop, tik op de bodem en trek het plantje er voorzichtig uit. Zet het plantje in het kuiltje, vul aan met aarde en druk de aarde stevig aan. Als het even kan, plant een zaailing dan op een bewolkte dag. Zo 'schrikt' het plantje minder.
Voor zaden: lees de gebruiksaanwijzing en houd daarbij vooral rekening met hoe diep je de zaden plant. Dek vervolgens de zaden af.
Geef de zaadjes of zaailingen goed water, totdat het water onderuit de pot loopt.
Behandel zaailingen en nieuwe plantjes voorzichtig. Zorg dat de aarde vochtig blijft, maar niet te nat en verwijder onkruid uit de pot.
Nog een paar weken, dan kun je je kruiden en groenten oogsten!
GENIET VAN JE OOGST
Het kweken van je eigen kruiden en groenten voedt niet alleen je geest, maar voegt ook verse smaken toe aan je zelfgemaakte maaltijden. Veel Mindful gerechten bevatten verse kruiden en groenten.
Probeer eens je eigen spinazie in deze geweldige halloumi salade. Je kunt jouw verse oogst op allerlei manieren verwerken in verrukkelijke gerechten.