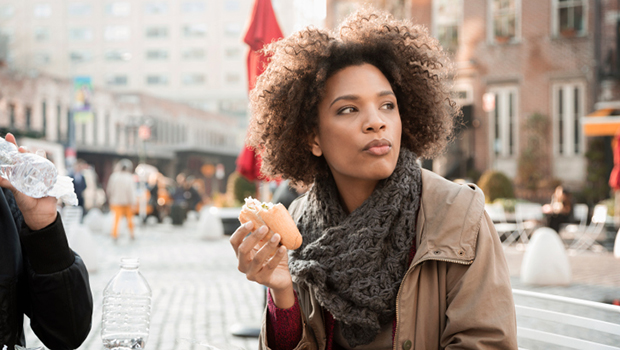 Dat uurtje – of half uurtje – lunchpauze kan ervoor zorgen dat je 's middags weer fris en fruitig aan de slag gaat. Maar daar moet je wel wat voor doen.
1. Even offline
Het is zo verleidelijk, in de lunchpauze even Facebook of Instagram checken en een paar WhatsAppjes beantwoorden. Maar voor je het weet staar je 30 minuten naar een scherm. Dat kan leuker: lunch met een collega of vriend(in), lees een paar hoofdstukken in een boek of maak en korte wandeling.
2. De paden op
Heb je het geluk dat er een park in de buurt van je werk is? Maak dan een lekkere wandeling en geniet van alles om je heen. Onderzoek wijst uit dat tijd doorbrengen in de natuur het stressniveau verlaagt en je humeur een oppepper geeft. Bovendien verlaagt beweging het risico op bepaalde ziektes en gaan je mentale capaciteiten erop vooruit. Naar buiten dus!
3. Wees creatief
Doe eens iets anders met je lunchpauze en schrijf in je dagboek of luister naar je lievelingsmuziek.
4. Doe een mindfulness-oefening
Voor een mindfulness-moment heb je niet meer nodig dan een rustig plekje in het park. Of doe gewoon de deur van je kantoor dicht. Ingewikkeld? Helemaal niet. Ga ontspannen zitten, sluit je ogen en focus je op je ademhaling en het hier en nu. Je zult dan merken dat je steeds rustiger wordt.