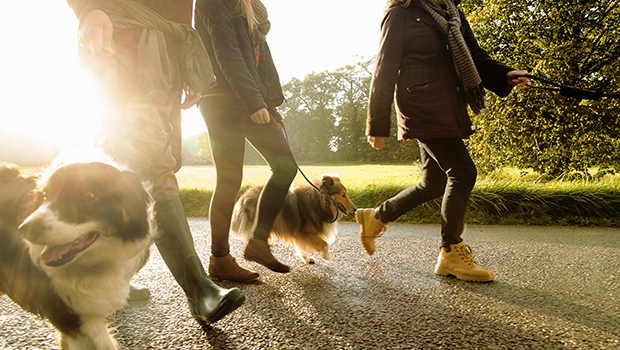 Win-win: deze activiteiten zijn goed voor je lijf én voor je sociale contacten.
Soms zitten er gewoon te weinig uren in een dag. Oplossing: ga multitasken! Vijf ideeën die je lichaam en je relaties een boost geven.
Serietje kijken & sporten
Heerlijk, een avondje tv-kijken. Nodig een vriend of vriendin uit (of je partner!) en maak een mini-sportschool voor de tv, met yogamatten, skippyballen en dumbbells. Serie aan? Sporten maar! Neem na elk half uur tien minuten pauze om te stretchen. Zo blijf je in shape en mis je niks van je favoriete serie.
Vergaderen & wandelen
Ken je dat? Je zit in vergadering en buiten is het prachtig weer. Die twee kun je prima combineren. Je krijgt frisse lucht en dankzij de beweging word je creatiever.
Hond uitlaten & mensen ontmoeten
Een rondje met de hond is op zichzelf al heel ontspannend. Wil je je sociale netwerk vergroten, ga dan eens naar een hondenuitlaatplek bij jou in de buurt. Leuk voor jou én voor je hond.
Dansen & daten
Natuurlijk is het leuk om met je geliefde naar het theater te gaan. Je kan van je avondje uit ook een actief moment maken door samen te gaan dansen. Met een uurtje op de dansvloer verbrand je al snel 300 kilocalorieën. Er is vast een dansschool – of discotheek – bij jou in de buurt.
Spelen met je kind & buiten zijn
Smartphone en tablet aan de kant, ga lekker met je kind naar buiten. Zo ontdek je de natuur en ben je gezellig samen bezig.