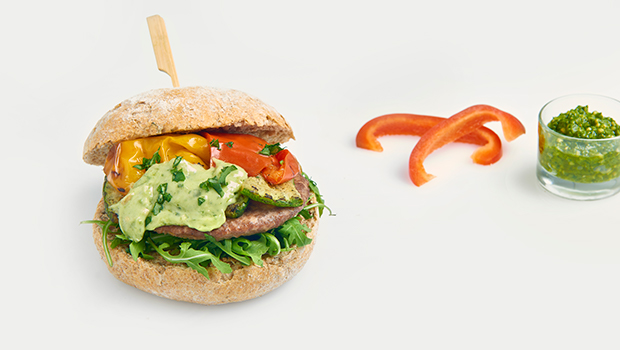 This delicious Italian beef burger contains zucchini. Zucchini contains few calories and a lot of fiber that give you a saturated feeling for a longer period of time. Because of this you are less hungry and can lose weight.
Print
Follow Our Recipe
Ingredients
4 beef burgers a 100 gr
4 wholegrain/multigrain buns
1 bell pepper (red)
1/2 zucchini
40 g rocket
4 tbs yoghurt base mayonnaise
20 g green pesto
2 tbs sunflower oil
hand of basil
Instructions
Preheat the oven at 180 degrees.
Cut the bell pepper and zucchini into slices and mix it with 1 el sunflower oil and a pinch of pepper. Grill the bell pepper and zucchini in the preheated oven.
Wash and dry the rocket. Also wash and dry the basil and chop it fine. Mix the yoghurt based mayonnaise with the pesto.
Grill the beef burgers on a baking sheet with the left over sunflower oil in 6 minutes.
Cut the buns and siege the bottom with rocket and the beef burger. Siege the burger with the grilled bell pepper and zucchini. Garnish with the pesto sauce and the basil and place the top of the bun on it.
Nutrition Facts: Calories: 550, Carbs: 54.39, Protein: 32.1, Fat: 20.88, Sat. Fat: 5.5, Sodium: 3.03, Fiber: 9.31