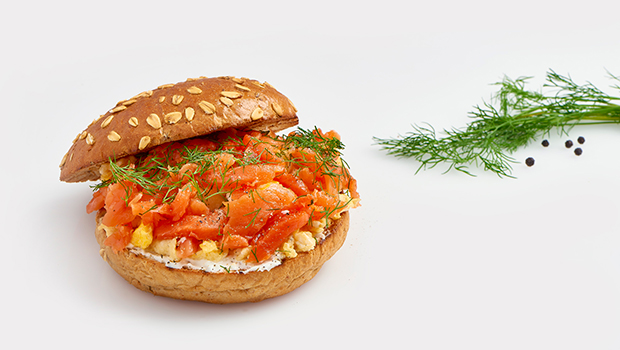 Print
Follow Our Recipe
Ingredients
4 multigrain brioche buns
100 g smoked salmon pieces
4 eggs
1/2 cucumber
120 ml Greek yoghurt 0% fat
hand of dill
1 tbsp sunflower oil
pinch of black pepper
Heat the sunflower oil and bake the eggs till scrambled eggs.
Peel the cucumber and chop in cubes. Mix the cucumber with the Greek yoghurt.
Chop the dill into tiny pieces.
But the brioche buns open and grill both sides. Spread the bottom with yoghurt-cucumber mixture. Devide the salmon pieces and the scrambled egg over the brioches.
Garnish with dill and black pepper.
Nutrition Facts: Calories: 442, Carbs: 38.46, Protein: 24.8, Fat: 20.17, Sat. Fat: 5.57, Sodium: 2.61, Fiber: 3.73