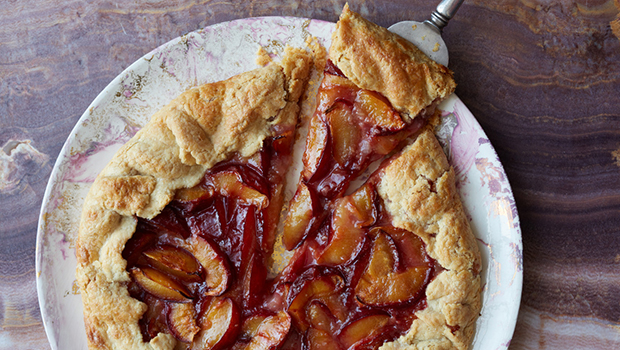 Peaches are the star of this crostata, which swaps out traditional flour for the healthful whole wheat variety. Trust us, this substitution doesn't sacrifice taste, but it does add a dose of good-for-you fiber. Plus, this dessert has 10 percent of your daily value of vitamin A.
Tip: The same amount of plums, pitted and thinly sliced, can be subbed for the peaches if desired. Or try a combo of the two fruits.
*10 percent daily value of vitamin A
Print
Follow Our Recipe
Ingredients
1 ¼ cups plus 1 tablespoon whole wheat flour, divided, plus more for rolling dough
6 tablespoons cold unsalted butter, cut into pieces
Pinch salt
6 to 8 tablespoons ice-cold water
1 ½ pounds peaches (around 4), halved, pitted, and thinly sliced
¼ cup packed brown sugar
1 teaspoon vanilla extract
½ teaspoon ground cinnamon
Zest and juice from ½ lemon
1 large egg white plus 1 tablespoon water as glaze (optional)
1 tablespoon granulated sugar (optional)
Make dough: In bowl of food processor, add 1 ¼ cups flour, butter, and salt. Pulse until combined; some pieces of butter should still be visible. Through feeder tube, add ice water about 1 tablespoon at a time and continue pulsing until dough turns into ball in food processor. Remove from food processor and form dough into round disc. Wrap in parchment paper or plastic wrap; place in refrigerator until chilled, 20 to 30 minutes.
Preheat oven to 425 degrees F. Meanwhile, prepare peaches, then add to medium bowl with brown sugar, vanilla, cinnamon, lemon zest, lemon juice, and remaining 1 tablespoon flour. Let sit for juices to accumulate.
When dough is chilled, place on lightly floured surface. Using rolling pin, roll into 12-inch circle.
Transfer dough onto parchment-paper-lined baking sheet. Scatter peaches over dough, leaving 2-inch border around edge of crostata. Fold border over top of peaches to form crostata. If desired, whisk egg white and water in small bowl and brush mixture over crostata crust, then sprinkle crust with granulated sugar.
Cook in oven until crust and peaches are cooked, about 30 minutes. Remove from oven and let cool slightly before cutting. Serve.
Nutrition Facts: Grams per
serving: 113 grams , Calories: 160, Carbs: 23 g, Protein: 3 g, Fat: 7 g, Sat. Fat: 4.5 g, Sodium: 5 mg, Fiber: 3 g