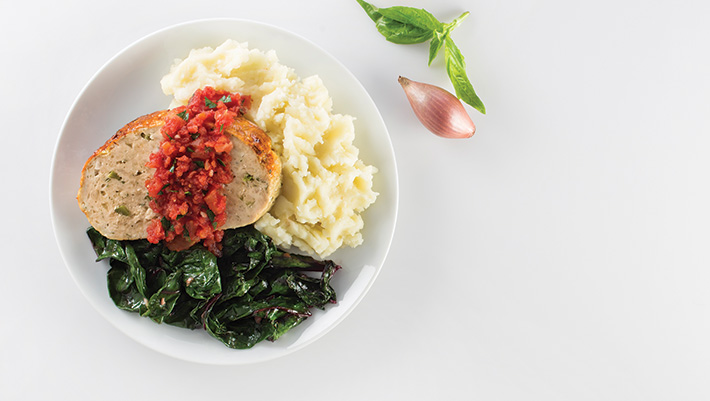 Turkey meatloaf served with parsnip whipped potatoes and balsamic Swiss chard with caramelized shallots
Print
Follow Our Recipe
Prep Time: 30 min|Cook time: 45 min|Yield: 1 Plate (serving)
Ingredients
4 ounce turkey meatloaf
1 tablespoon pizza sauce
4 ounce parsnip whipped potatoes
4 ounce balsamic Swiss chard with shallots
Turkey Meatloaf
Ingredients
3 tablespoons quick oats
1 tablespoon + 1 teaspoon fat free milk
2 3/4 ounces ground turkey, 90/10, raw
1/4 ounce Spanish onions, fresh, chopped
7/8 teaspoon green peppers, fresh, chopped
7/8 teaspoon celery, fresh, chopped
1 3/8 teaspoons egg substitute
1 teaspoon parsley leaves, fresh
1/8 teaspoon table ground black pepper
1 1/8 teaspoon whole clove peeled garlic, fresh, minced
1/8 teaspoon kosher salt
1/8 teaspoon thyme leaves, fresh
Pizza Sauce
Ingredients
2 3/4 teaspoons no salt added diced tomatoes, canned
dash (to taste) whole clove peeled garlic, fresh, minced
dash (to taste) oregano leaves, fresh, minced
dash (to taste) onion powder
dash (to taste) basil leaves, fresh, chiffonade
dash ( to taste) ground black pepper
dash (to taste) crushed red pepper flakes, dried
Parsnip Whipped Potatoes
Ingredients
2 3/4 ounce peeled chef (russet) potatoes
1 ounce parsnips, fresh, peeled
1 1/2 teaspoons reduced fat 2% milk
dash (to taste) kosher salt
dash ( to taste) ground white pepper
1/4 teaspoon Italian parsley leaves, fresh (flatleaf), chopped
Balsamic Swiss Chard with Shallots
Ingredients
7/8 teaspoon canola olive oil blend 80/20
1 ounce peeled shallots, fresh
1 tablespoon + 1/4 teaspoon whole clove peeled garlic, fresh, chopped coarse
3 1/4 ounce Swiss chard, fresh, stemmed
dash (to taste) kosher salt
1/2 teaspoon table ground black pepper
1 5/8 teaspoons balsamic vinegar
Turkey Meatloaf: Mix oatmeal and milk in a bowl. Let stand 10 minutes. Mix remaining ingredients in another bowl until well blended. Line mini loaf pan with parchment paper. Place mixture into pan. Press evenly into pan. Bake in preheated 350 degree oven for 15 to 20 minutes. Let stand 10 minutes.
Pizza Sauce: In a blender, pulse tomatoes lightly to crush. Combine all ingredients until well blended.
Parsnip Whipped Potatoes: Cut potatoes and parsnips into equal size pieces. Boil for 10 to 15 minutes or until tender. Heat milk over very low heat just until hot. Remove potatoes and parsnips from heat and drain into a colander. Place potatoes in bowl, with electric mixer mix slowly to break up potatoes and parsnips. Mash potatoes and parsnips, adding milk in small portions. Mix in salt and pepper. Garnish with chopped Italian parsley.
Balsamic Swiss Chard with Shallots: Heat oil in a skillet. Add shallots and garlic; cook slowly 10 to 15 minutes or until soft and golden brown. Add Swiss chard, salt, pepper, and balsamic vinegar; cook for 5 to 6 minutes or until greens are wilted and vinegar reduces.
For Service: Place 1 (4ounce) slice turkey meatloaf, 4 ounces parsnip whipped potatoes and 4 ounces balsamic Swiss chard on a plate. Top meatloaf with 1 tablespoon pizza sauce.
Nutrition Facts: Calories: 340, Carbs: 45g, Protein: 19g, Fat: 11g, Sat. Fat: 2g, Cholesterol: 70mg, Sodium: 480mg, Fiber: 7g