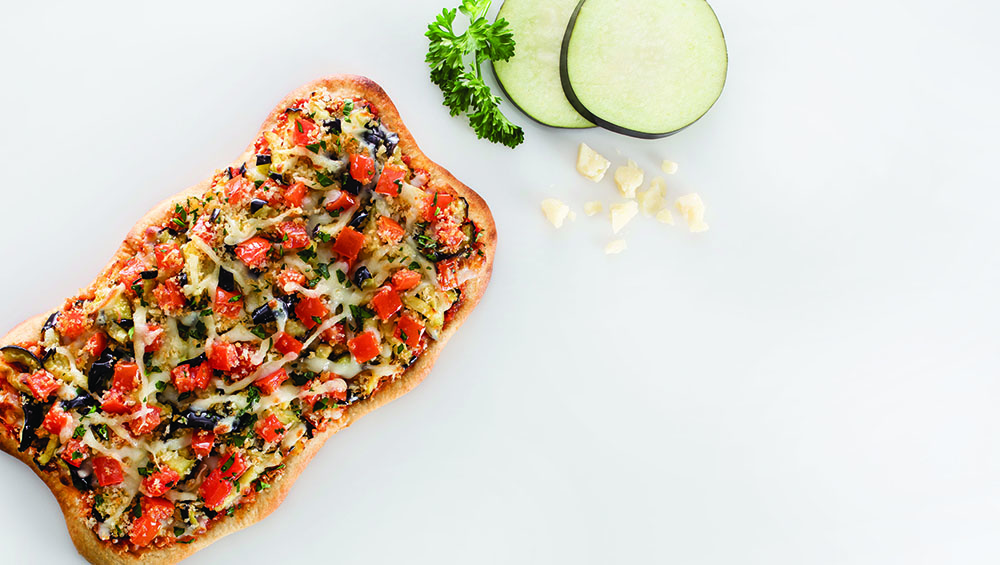 Pizzetta with pizza sauce, roasted eggplant, plum tomato, vegan mozzarella, crispy panko & fresh oregano
Print
Follow Our Recipe
Prep Time: 10 to 12 minutes|Cook time: 18 to 22 minutes|Yield: 4 servings; 1 pizzetta each
Pizza Sauce:
Ingredients
1 cup no added salt diced tomatoes
1/4 teaspoon peeled and finely chopped fresh garlic cloves
1/8 teaspoon finely chopped fresh oregano or 1 pinch dried oregano leaves
1/8 teaspoon onion powder
1 small basil leaf, thinly sliced or 1/4 teaspoon of dried basil leaves
1 pinch ground black pepper
1 pinch crushed red pepper flakes
Roasted Eggplant Rings:
Ingredients
10 ounces fresh eggplant (about half an eggplant), cut in half lengthwise, then thinly sliced crosswise
2 teaspoon canola oil
Sweet Eggplant Parm Pizzetta:
Ingredients
4 whole wheat flatbreads, approximately 4-inch x8-inch or whole grain pocketless Greek pita or whole grain naan
1 cup diced fresh plum tomatoes
1 cup shredded vegan mozzarella cheese or part skim mozzarella cheese
1/4 cup panko breadcrumbs
2 teaspoons fresh oregano leaves or 1 teaspoon dried oregano leaves
To Prepare Pizza Sauce:
In a blender, pulse tomatoes lightly to crush. Transfer to a bowl.
Combine all ingredients until well-blended. Cover, and place in refrigerator until ready to use.
To Prepare Roasted Eggplant Rings:
Place eggplant slices in a mixing bowl with oil. Toss to evenly coat.
Place eggplant in a single layer on a parchment paper lined sheet tray. Do not overcrowd.
Place in a preheated 450-degree Fahrenheit standard oven (400-degree Fahrenheit convection oven). Roast for 8 to 10 minutes until eggplant has browned but is still firm to the touch. Allow to cool slightly before using.
To Prepare Spicy Chipotle Chicken Pizzetta:
Preheat convection oven to 350 degrees Fahrenheit (or standard oven to 400 degrees Fahrenheit).
Evenly spread ¼ cup pizza sauce to ¼-inch from the edge of each flatbread.
In order, evenly top with:
-1/4 cup diced tomato
-1/4 cup shredded cheese
-1 Tablespoon panko breadcrumbs.
NOTE: Do not pile ingredients in center but concentrate on spreading towards outside edges.
Place in preheated oven. Bake for 10 to 12 minutes or until cheese is melted.
Evenly top cooked pizzetta with ½ teaspoon chopped fresh oregano.
Cut as desired. Enjoy immediately!
Nutrition Facts: Calories: 350, Carbs: 55g, Protein: 9g, Fat: 11g, Sat. Fat: 4g, Cholesterol: 0mg, Fiber: 14g