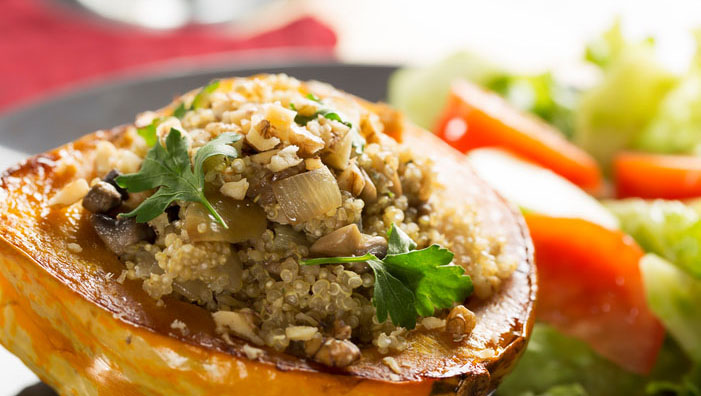 Make traditional holiday stuffing using quinoa and stuff in peppers
Print
Follow Our Recipe
Prep Time: 10 minutes|Cook time: 40 minutes|Yield: 12
Ingredients
2 cups quinoa
5 cups vegetable broth, separated
1 tablespoon olive oil
2 cups diced onions
2 garlic cloves, minced
2 cups diced celery with leaves
1 10-ounce bag of shredded carrots
1 teaspoon ground thyme
1 teaspoon ground sage
1 teaspoon poultry seasoning
1 teaspoon salt
1 teaspoon ground black pepper
1 cup dried cranberries
1 cup chopped walnuts
½ cup chopped parsley
12 bell peppers: red, green, orange or yellow
Rinse the quinoa in a strainer. Place the quinoa and 4 cups of the broth in a large saucepan and bring to a boil. Reduce the heat, cover and simmer until all the liquid is absorbed, about 10 minutes.
Meanwhile, in a large skillet, heat the oil over medium-high heat. Add the onions, garlic, celery, and carrots, and stir to coat with the oil. Add the thyme, sage, poultry seasoning, salt, and pepper, and toss well to combine. Sauté the vegetables until they begin to wilt, about 5 minutes.
Add the quinoa and stir to combine. Add the remaining cup of vegetable broth, cranberries, walnuts and parsley and heat through for another 5 minutes.
Preheat the oven to 350 degrees.
Cut off the tops of the peppers, remove the seeds and ribs and place on a sheet pan. Spoon the quinoa stuffing into each of the pepper cavities and bake for 20 to 30 minutes, until the peppers begin to soften and the stuffing is heated through.
Nutrition Facts: Calories: 210, Carbs: 33g, Protein: 5g, Fat: 7g, Sat. Fat: 0g, Cholesterol: 0mg, Sodium: 379mg, Fiber: 7mg