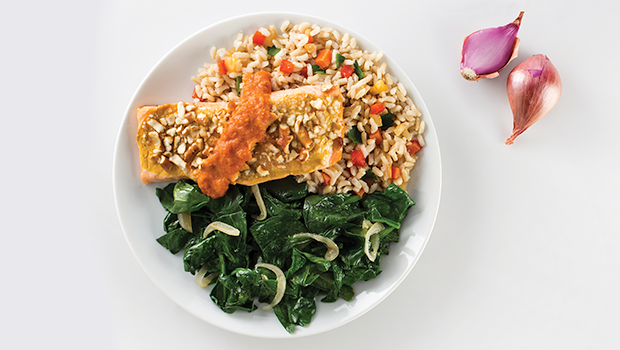 Baked Salmon encrusted with pretzel topping served with sauted spinach and a brown rice pilaf
Print
Follow Our Recipe
Ingredients
1 pound skinless salmon, cut into 4 fillet pieces
2 teaspoons yellow mustard
½ teaspoon ground black pepper
2 tablespoons, pretzels, ground in food processor
Roasted Tomato Coulis
Ingredients
3 Tablespoon vegetable broth
½ cup tomatoes, diced
¼ cup red peppers, diced
1 tablespoon shallots, diced
1 clove garlic
½ teaspoon sherry vinegar
¼ teaspoon ground black pepper
Spinach
Ingredients
1 tablespoon Canola oil
½ cup onions, julienned
1 pound spinach, rinsed and dried
½ teaspoon ground black pepper
Brown Rice Pilaf
Ingredients
1 teaspoon olive oil
1 tablespoon onions, minced
¼ cup carrots, diced
¼ cup red peppers, diced
¾ cup brown rice
1 ½ cup vegetable broth
1 bay leaf
1/8 teaspoon ground black pepper
1 tablespoon Italian parsley, minced
Instructions
Roasted Tomato Coulis: Preheat the oven to 350 degrees. Place the tomatoes, peppers, shallots and garlic on a baking sheet and roast for 15 minutes in the oven. Remove and place in a food processor and puree. In a sauce pan over medium heat, add the vegetable broth, vinegar and black pepper and puree. Bring it to simmer and heat for 5 minutes. Reserve.
Spinach: In a skillet over medium heat, add the oil and onions and saute for about 5 minutes until browned and soft. Add the spinach and toss until completed wilted, about 3 minutes. Set aside.
Brown Rice Pilaf: In a sauce pan over medium heat, add the olive oil and saute the onions, carrots and peppers until vegetables are soft, about 5 minutes. Add the rice, vegetable broth, bay leaf and pepper. Cover and simmer for 30 minutes or until rice is thoroughly cooked. Remove the bay leaf and stir in the parsley.
Preheat the oven to 375 degrees. Place the salmon fillets on an oiled baking sheet. Spread each with mustard and sprinkle with the pepper. Top each with the ground pretzel. Bake for 8 minutes.
To assemble: Place a quarter of the spinach on a plate and top with the baked salmon fillet and garnish with the tomato coulis. Serve along side a serving of the brown rice pilaf.
Nutrition Facts: Calories: 285, Carbs: 15g, Protein: 31g Fat: 10g, Sat. fat: 1g, Cholesterol: 75mg, Sodium: 211mg, Fiber: 2g