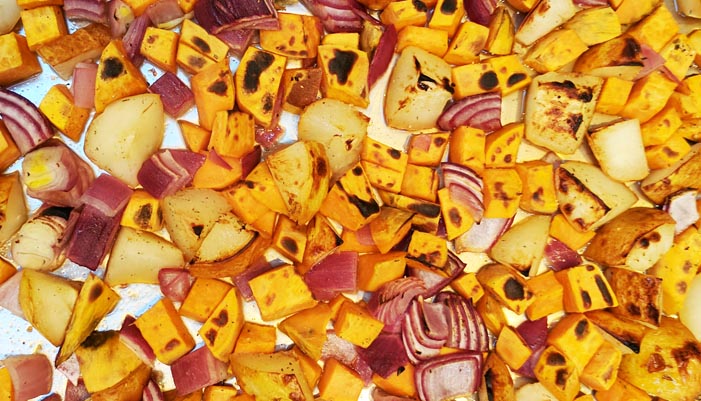 Delicious seasonal dish, consisting of Maple-Roasted Sweet Potatoes, Pears and Red Onions.
Print
Follow Our Recipe
Prep Time: 10 minutes|Cook time: 30 minutes|Yield: 8
Ingredients
6 cups sweet potatoes, peeled and cubed
3 pears, peeled, cored and chopped
2 cups red onions, chopped
½ teaspoon salt
¼ cup maple syrup
Preheat the oven to 350 degrees.
Place the chopped potatoes, pears and onions in a single layer on a baking sheet.
Sprinkle with salt, drizzle with maple syrup, and toss to combine. Roast for 25 minutes.
Turn the oven to broil and place the baking sheet about 6 inches from the heat for 3 to 5 minutes, or until the mixture begins to brown.
Nutrition Facts: Calories: 180, Carbs: 42g, Protein: 2g, Fat: 0 , Sat. Fat: 0 , Cholesterol: 0 , Sodium: 87mg, Fiber: 5.3g