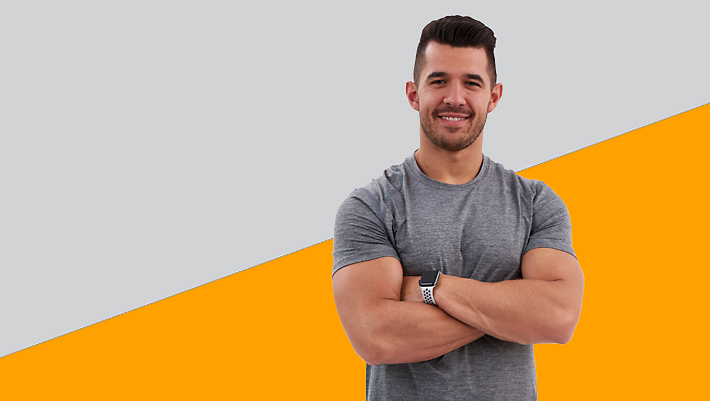 Our new fitness ambassador, Faisal Abdalla, is excited to help you discover the best version of yourself.
Like many of you, my career path has never been straight or in one direction. I've been a ball boy at Wimbledon, sold TVs, suited up for an office job, dabbled in pantomime (true story), even tried to make it in Hollywood. The one constant has been an interest in healthy living.
In fact, it was between takes on film sets that I started hanging out with stunt teams to see if I had the right stuff to match their moves. Most of the time I couldn't keep up, but those stunt actors helped me see that I had it in me to really push my physical limits. I'd found my passion.
The transformation wasn't instant—far from it. It took me months to find the right workouts and realize that if I wanted to see real changes in my body I'd have to make some big changes to what I was eating. But most of all it took me a while to realize that I needed to change my mind-set. That's how I came up with my PMA mantra.
PMA stands for Positive Mental Attitude, and I truly believe it's the most powerful weapon you have. It was life-changing for me, and I'm so excited to share it with all of you. If you want to squeeze every drop out of life, then you need a positive mental attitude. You need to believe in yourself, love yourself and learn to ignore the negative voices in your head.
Don't worry if that sounds like a far reach. That's what I'm here for—to help you seize opportunities and discover the best version of yourself. To start with, I want each of you to find your why. If you can nail down the reason why you want to lose weight or run faster (or whatever your wellness goal is) then you can visualize the end point. And that's key, because once you can picture yourself hitting your goals, you'll have an easier time maximizing your positive thinking and your training—and pushing your limits.
To get started on your own personal fitness journey, spend time thinking about your why and have fun trying my high-intensity interval training (HIIT) workouts. I'm a big believer in HIIT that combines elements of strength training with cardio to help you get your body stronger than ever in a short amount of time.
Don't be afraid to push yourself. I always tell my clients that honest training brings honest results. Go ahead and make today the day you start kicking butt!
Faisal Abdalla lives in London, England, with his wife and son. He is a Nike master trainer and is widely known for training celebrities like pop star Ellie Goulding, he says he most enjoys helping everyday people reach their personal fitness goals. His book, The PMA Method: 14 Days to a Stronger, Healthier, Happier You, was published in the U.S. in June.