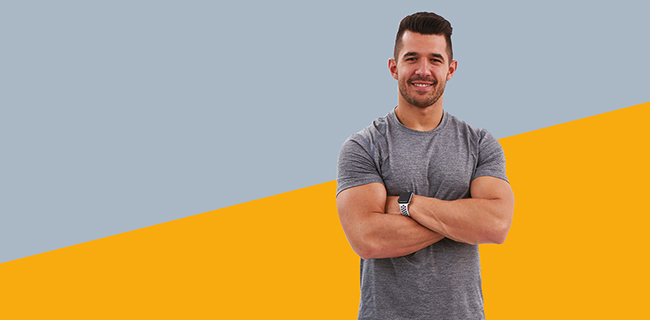 Faisal Abdalla, Mr. PMA (Positive Mental Attitude), laat jou de beste versie van jezelf ontdekken.
Dit is vast wel herkenbaar: mijn carrière ging niet in een rechte lijn van A naar B. Ik ben ballenjongen geweest bij Wimbledon, heb tv's verkocht, ik heb ooit strak in het pak op kantoor gezeten en heb het geprobeerd als pantomimespeler (waar gebeurd verhaal). O en dan heb ik ook nog een poging gewaagd om door te breken in Hollywood. De enige constante bleef mijn interesse in een gezonde levensstijl.
Op een dag moest ik wachten op een filmset voor de volgende opname. Om de tijd doden, hing ik wat rond bij de stuntteams om te zien of ik hun moves kon nadoen. Meestal lukte dat niet, maar de acteurs lieten me inzien dat ik het kon als ik het echt wilde – en dat ik daarvoor mijn fysieke grenzen moest opzoeken. Lang verhaal kort: ik had mijn passie gevonden.
Natuurlijk was er geen sprake van een plotse metamorfose – verre van zelfs. Het duurde maanden om de goede workouts te vinden én om te beseffen dat als ik letterlijk resultaat wilde zien, ik ook anders moest gaan eten. Maar wat vooral even duurde, was in te zien dat mijn hele mindset moest veranderen. Zo kwam ik aan mijn PMA-mantra.
PMA staat voor Positive Mental Attitude en ik ben ervan overtuigd dat dit het krachtigste wapen is dat je hebben kunt. Mijn hele leven is erdoor veranderd en dat wil ik graag met anderen delen. Als je álles uit het leven wilt halen, dan heb je een positieve mindset nodig. Je moet in jezelf geloven, van jezelf houden en leren om de negatieve stemmetjes in je hoofd te negeren.
Klinkt dat als een ver-van-je-bedshow? Daarom heb je mij. Ik help jou om kansen te grijpen en de beste versie van jezelf te ontdekken. Allereerst wil ik dat je 'why' vindt. Als je precies weet waarom je wilt afvallen of sneller wilt kunnen hardlopen (of welk gezondheidsdoel je dan ook hebt), kun je je doel visualiseren. Dat is superbelangrijk, want als je eenmaal voor je ziet dat je je doelen haalt, is het makkelijker om positief te blijven en te blijven trainen – en je grenzen op te zoeken.
Nu je aan de basis staat van een gezondere levensstijl, is het tijd om jouw why uit te dokteren en met plezier mijn high-intensity interval training (HIIT) workouts uit te proberen. Ik geloof dat je door de combinatie van krachttraining en cardio in korte tijd sterker dan ooit wordt.
Wees niet bang om je grenzen op te zoeken. Ik zeg altijd: goed trainen leidt tot goede resultaten. Begin vandaag nog. En ga er helemaal voor!
Faisal Abdalla woont in Londen samen met zijn vrouw en zoon. Hij is Nike master trainer en traint beroemdheden als Ellie Goulding. Het liefst helpt hij gewone mensen om hun fitnessdoelen te bereiken. Zijn boek, The PMA Method: 14 Days to a Stronger, Healthier, Happier You, werd in juni in de VS gepubliceerd en is te koop via bol.com.