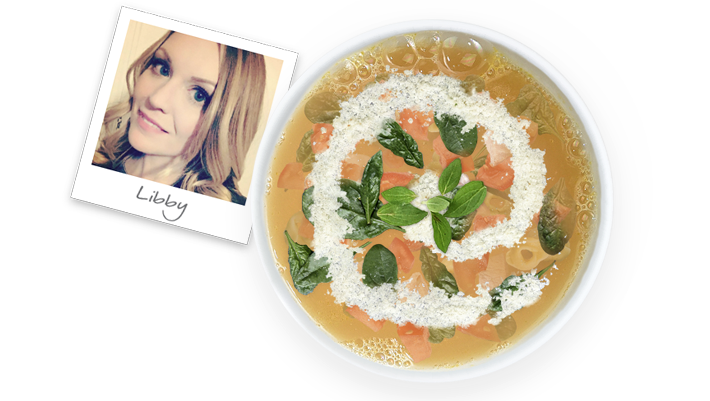 Chicken soup takes a flavorful twist when garden vegetables and tortellini share top billing.
Cooking is second nature to Boston native Libby. Part of a large extended family that makes a habit of sharing meals together often, she's just as comfortable commanding a crowded kitchen as she is organizing the chaos of the bustling surgical center where she's the practice manager. "I love to cook and share recipes," says Libby, who's also juggling college courses in pursuit of a bachelor's degree in business management. "In fact, I cook a lot of soups!"
This one happens to be inspired by her grandmother's chicken and pasta soup. "It was something she made for us often—whenever one of us was sick, or when she just wanted to make something she knew we all loved," she says. "My nana never wrote down her recipe. But my mom, my sisters and even my dad have all come up with our own variations over the years."
For her Make It Mindful creation, Libby looked for ingredients that would be satisfying but also healthy. "Even though I enjoy a cupcake once in a while, I try to pay attention to what I eat, and I am always looking for quality ingredients that are fresh and not so processed," says Libby. She started with a savory chicken stock, instead of her grandma's cream base. Next, she added tender chicken seasoned with oregano, garlic and a splash of balsamic vinegar and honey, along with fresh vegetables, including baby spinach, onions and tomatoes. Last but certainly not least, she chose hearty tortellini pasta, fresh basil and grated Parmesan cheese to make it a true comfort food.
"Whenever I take a spoonful of this soup, it reminds me of my childhood," says Libby. "It's comfort to me. And if I win, I'd feel so proud to be representing my nana and my family."