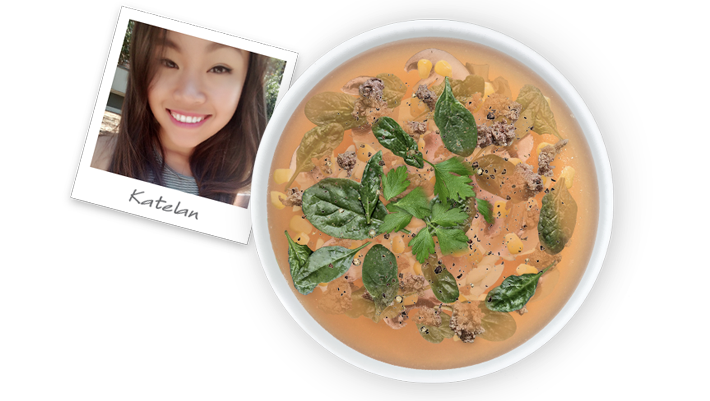 Classic beef stew gets an upgrade when it packs good-for-you veggies in a savory stock.
As a busy college student, Katelan packs her days with a mix of activities. In addition to her political science and marketing classwork, she squeezes in time for campus clubs, frequent hikes, hanging out with her boyfriend and personal writing. So it's not a stretch to imagine that she carries over that multitasking mind-set to her cooking. "Soups are one of my favorite things to cook because you can put just about anything in and it will come out tasting great—with the right seasonings and a long cooking time, of course," says Katelan, who's a junior at Columbia College in South Carolina.
When she saw the Make It Mindful Soup Challenge mentioned in a college newsletter, she jumped at the chance to recreate her late grandmother's beef stew. "Soup is the ultimate comfort food," she says. "Every culture has its own variety, and it's the dish people put on the table when they want to bring everyone together. In my family, it was my grandmother's stew. We could always count on her soup to be hot and delicious. I thought it would be fun to share my favorite soup with friends on campus."
Katelan looked for ingredients that reminded her of all the good things her grandma used, but she didn't want it to be exactly the same. "Where's the fun in that?" she asks. "Plus, no one in the family knows everything that went into her recipe!" What did make it into the soup pot? A seasoned vegetable stock and a generous helping of good-for-you veggies like baby spinach, mushrooms and corn. Next in was our signature Mindful Beef Mushroom Burger, which has fewer calories than ground beef alone. The mouthwatering combination simmers for hours so the flavors can unite before being spooned over tender grains of orzo pasta and topped with fresh parsley just before serving.
"This is good for any day when a bowl of warm soup is what you need or when you don't have time to make a complicated meal," says Katelan. "Having my soup chosen as a finalist has been wonderful. It means I've made a connection with others, which is what a good soup is supposed to do."