This is no ordinary chicken taco. Fresh avocado and mango take it over the top.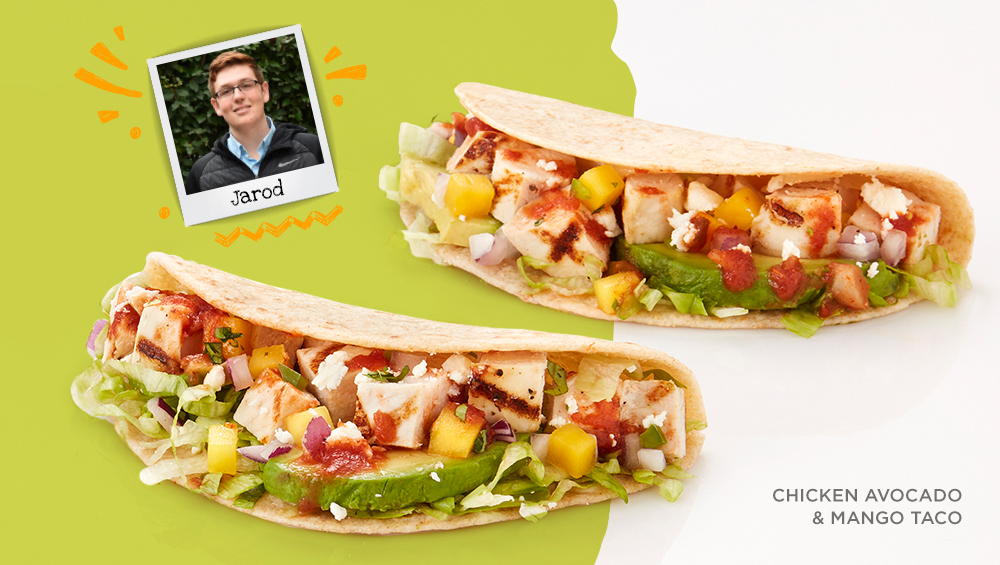 The Midwest may not be known for tacos, but this Ohio native certainly knows his way around tortillas and toppings.
"I love tacos," says Jarod, 20, a math and secondary education major now in his junior year at Bluffton University. "Growing up, my family had regular taco nights where we'd mix it up with the fixings. Everyone I know knows my favorite food is a taco."
When Jarod and his friends spotted the Make It Mindful contest, he thought it would be fun to recreate one of his all-time favorite chicken tacos that he discovered while studying abroad in Guatemala City. 
"Every day, I'd walk home to my host family and pass by street vendors selling all different kinds of tacos" he says. "They're nothing like an American taco, but they're unbeatable."
His favorite was filled with braised chicken that was slowly cooked over an open fire. The vendors would top the meat with fresh fruit and melty cheese.
Browsing the Mindful Taco ingredient choices, Jarod immediately gravitated to grilled chicken for its smoky flavor. He went with a bold cheese choice—crumbles of salty, slightly tangy feta cheese. "Shredded cheese doesn't have enough flavor," he says.
Jarod also wanted to use lots of fresh ingredients. Slices of avocado, plus mango cilantro salsa checked that box. From there, he got downright greedy—adding traditional salsa roja, and finishing everything off with red onion and cilantro. 
"I like thinking about where my food comes from, and the cultures that inspired a meal," says Jarod. "To me, that's being mindful."