Jerk Pork Loin with Mango Cucumber Salsa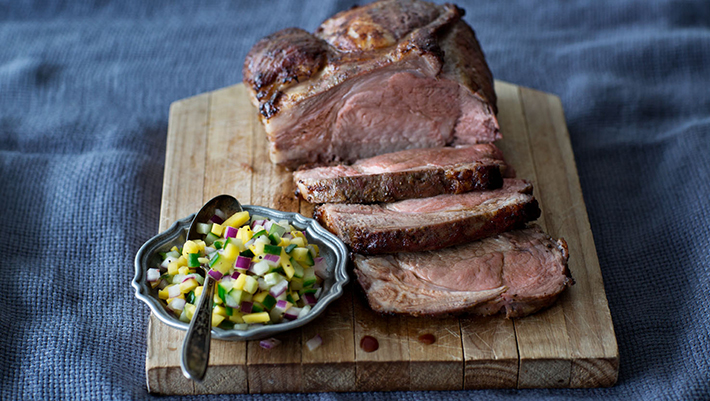 This jerk-marinated pork has lots of island flavor and just enough heat, which is offset by the cool, fruity salsa to serve alongside it. The make-ahead idea here is that you can marinate the pork in the refrigerator for a couple of days, or in the freezer for months, so all you need to do when you want it is thaw if frozen, and pop it in the oven. Any leftover cooked meat can also be reheated or served at room temperature as part of a cold plate, or in sandwiches.
1 small onion, roughly chopped
1/3 cup white vinegar
3 tablespoons canola oil, or other neutral tasting oil
8 cloves garlic
1 medium jalapeño pepper, top trimmed, with seeds
2 teaspoons dried thyme
1 teaspoon ground allspice
1 teaspoon ground nutmeg
1/2 teaspoon ground cloves
1/4 teaspoon freshly ground black pepper
One 2-pound pork loin
1 bay leaf
For serving: 1 recipe Mango Cucumber Salsa (recipe follows)
Place the onion, vinegar, oil, garlic, jalapeño pepper, thyme, allspice, nutmeg, cloves, and black pepper into a food processor and process until smooth. Place the pork into a large (2-gallon) sealable plastic bag. Add the marinade and bay leaf, toss to coat, and seal the bag, removing as much air as possible. Place in the refrigerator for up to 2 days or freeze for up to 2 months. Thaw in the refrigerator for 36 to 48 hours to be ready to cook. To continue, preheat the oven to 400°F. Drain the liquid from the bag, maintaining any marinade solids but discarding the bay leaf. Transfer the pork to a roasting pan and rub the solids onto the surface of the pork. Roast until the internal temperature reaches 145°F for medium rare, about 45 minutes, or 160°F for medium, about 1 hour. Allow to rest at room temperature for 15 minutes before slicing into 1/4-inch-thick slices. Serve with the Mango Cucumber Salsa. To refrigerate and reheat: Once cooked and sliced, the meat will keep in an airtight container in the refrigerator for up to 3 days. Serve at room temperature, or to reheat, wrap in foil and place in a 350°F oven for about 10 to 15 minutes. Alternatively, place on a microwave-safe plate, cover with a splatter guard, and microwave for about 30 seconds per portion. To freeze and reheat: If the pork has been marinated in the freezer, refreezing is not recommended. Otherwise, to freeze the cooked pork, slice and wrap in individual portions in plastic wrap or foil, place in a sealable plastic bag, and freeze for up to 3 months. Thaw in the refrigerator for 24 to 36 hours, then reheat following the "to refrigerate" directions. Or, to thaw more quickly, unwrap the quantity desired, wrap in foil, and place in a cold oven set to 350°F. Once the oven has reached temperature, continue to cook for about 25 minutes, until warmed through. Alternatively, unwrap, place on a microwave-safe plate, cover with a splatter guard, and microwave on the defrost setting for 3 minutes, then continue to heat through on high for about 30 seconds for a single portion. Serving size: 3 to 4 slices; Per serving: Calories 260; Total Fat 10g (Mono Fat 5.7g, Poly Fat 2.6g, Sat Fat 1.6g); Protein 33g; Carb 9g; Fiber 1g; Cholesterol 100mg; Sodium 180mg; Excellent source of: Niacin, Phosphorus, Potassium, Protein, Riboflavin, Selenium, Thiamin, Vitamin B6, Vitamin C, Zinc; Good source of: Copper, Magnesium, Pantothenic Acid, Vitamin B12, Vitamin K Mango Cucumber Salsa Makes 6 servings This cool, fruity salsa not only goes with the Jerk Pork Loin above, it's great with just about any grilled or roasted protein that has a spicy kick to it. You can also add some chopped jalapeño and serve it alongside more simply seasoned chicken, pork, or shrimp, or put it out as a dip with chips or vegetables.
1 cup finely diced mango
1 cup finely diced, seeded English cucumber
3 tablespoons finely diced red onion
11/2 tablespoons fresh lime juice
1/4 teaspoon salt
1/8 teaspoon freshly ground black pepper
For serving: 2 tablespoons fresh cilantro leaves
Fresh lime juice to taste, optional
In a medium bowl, toss the mango, cucumber, onion, lime juice, salt, and pepper together to combine. The salsa may be made ahead at this stage. Toss the cilantro leaves in and additional lime juice to taste, right before serving. Serving size: 1/3 cup; Per serving: Calories 25; Total Fat 0g (Mono Fat 0g, Poly Fat 0g, Sat Fat 0g); Protein 0g; Carb 6g; Fiber 1g; Cholesterol 0mg; Sodium 100mg; Excellent source of: Vitamin C To refrigerate: The salsa may be stored in an airtight container in the refrigerator for up to 3 days. Stir well before serving.
Nutrition Facts: