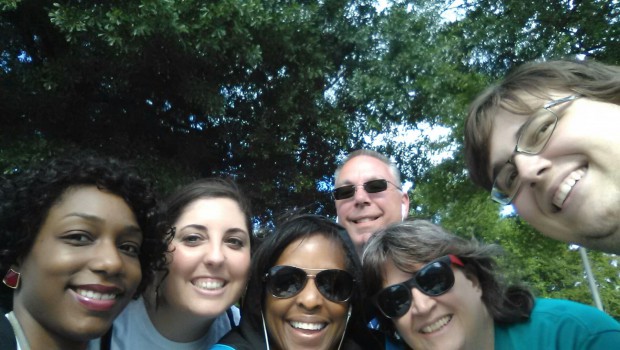 Nine Days Away from a Year of Transformation
After hitting his highest weight of 540 lbs. in June 2013, Grant Grimes, 22, of Atlanta, knew he didn't need to go on a diet, he needed to change his lifestyle. His blog series, Grant's Small Steps, shares his weight-loss journey – and he hopes – inspires others to live more Mindful.
July 1 marks a year ago that I embarked on this journey.
I remember those first days and how hard the simple changes I made seemed. I stared at our Coke Freestyle soda fountains for about five minutes before hitting the water button. I noticed the smells of every fried food cooking in the food court that day.
I also remember being extremely sore for three days after my first two-hour workout. However, as the days and weeks passed, every healthy food choice and workout got a little easier until they almost became second nature to me.
Now, don't get me wrong. I still love French fries, and I still eat them on occasion. But when I do, I opt for the small instead of large. At our Chick-fil-A on campus, our employees know to only fill my fries halfway if I do order them. (I love that everyone looks out for me.)
Nowadays, I can keep up my intensity through two-hour-long aerobic sessions. I can walk 5Ks. I can be adventurous with my eating and even go vegan for a week (and survive!). It's amazing how your body adapts and your mind can make anything possible.
In year one of my transformation, I've lost 145 lbs. Though I don't like to really set goals, I'm hoping to lose another 80 pounds throughout the next year.
I encourage you to follow my small steps and take some of your own. A great tip that I have been given, which can help you start your journey, is to eliminate liquid calories. These calories are extremely easy to consume—and you may be surprised where you'll find them. The next time you buy orange juice, check the label. You may be shocked to see that it is higher in calories than soda. If you are craving it, have a whole orange. You will feel more full and consume half of the calories.
After thinking about it over this past year, here are my goals for this next year:
1. Buy clothes at regular stores. I have been shopping at Big and Tall stores since my freshman year of high school. (I'm almost down to a size sold in regular retailers.)
2. Wear Georgia Tech apparel. I can already fit into the shorts and pants that we sell since starting my journey, but there is a polo shirt and a jacket with my name on it as soon as I lose enough weight!
3. Eliminate my high blood pressure and sleep apnea. I may not eliminate both of these next year, but I will do my hardest to achieve both.
4. Walk/jog/run a half marathon. That's right. 13.1 miles of cardiovascular exercise.
5. Ride a rollercoaster. I absolutely hate heights and am terrified of rollercoasters, but my friends love them, and I am eager to overcome all of my fears in life.
I'm really thankful to be able to share my experiences with you and hope that I inspire you in some small way to move out of your comfort zone and try something new – whether it's eating more veggies or trying a Zumba class.
If you do, please feel free to comment below. You'll help motivate me to keep on keeping on with my Mindful journey, too! I check the comments and will respond to each one personally as soon as I can!
Grant Grimes is a recent graduate of Georgia Institute of Technology and now enjoys full-time employment with Sodexo as the sustainability coordinator for Georgia Tech Dining Services.