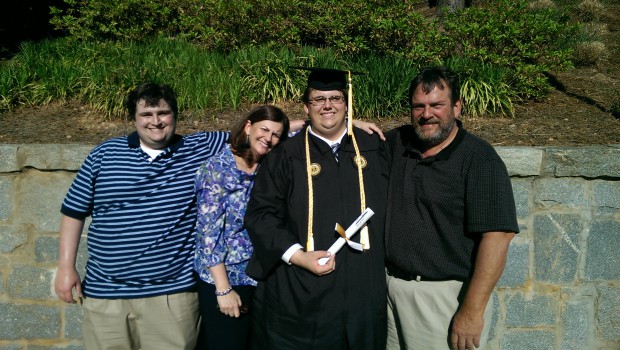 Helping Myself While Helping Others
After hitting his highest weight of 540 lbs. in June 2013, Grant Grimes, 22, of Atlanta, knew he didn't need to go on a diet, he needed to change his lifestyle. His blog series, Grant's Small Steps, shares his weight-loss journey – and he hopes – inspires others to live more Mindful.  
Charity has always been a passion of mine. I remember selling CDs at the local pool to raise money for the Red Cross after Hurricane Katrina in 2005. Now, I'm looking to incorporate my existing passion for helping others with my recent focus on living healthier, by participating in walks or runs that benefit charities.
My first charity walk is a one-mile event that I won a free entry into. It's this coming Monday night and benefits an organization called "Ties That Matter," which helps create change by creating jobs in Atlanta and Haiti. Now in the interest of full disclosure, this particular walk is organized by a local brewery, but I'll hydrate with water! My goal is to raise $200 and I'm almost there.
I did another walk earlier this week, not for a charity though, but to encourage healthy behaviors on the Georgia Tech campus. As a proud official graduate with highest honors, I'm staying on campus as the full-time sustainability coordinator with our dining services team—and I love the idea of encouraging my colleagues to make healthier choices.
Called the Pi Mile (yes, it's 3.14 miles, we are a tech school after all) the walk was led by our president. It was a great time. There will definitely be more walks—and soon walk/runs—in my future.
I talked about in an earlier blog, but as my graduation came and went, I reflected on the past year. I really proved to myself that with the proper resolve I could focus on all areas of my life. For me, it was my education, work, social life and health, with my health always being sacrificed for the others. I don't think that's unique to me, it's the easiest one to lose sight of.
But I know just as I did it, anyone can give health the focus it deserves. So, what are you waiting for? Start taking your own Mindful steps to get healthier. I'll be right here beside you.
Grant Grimes is a recent graduate of Georgia Institute of Technology and now enjoys full-time employment with Sodexo as the sustainability coordinator for Georgia Tech Dining Services.