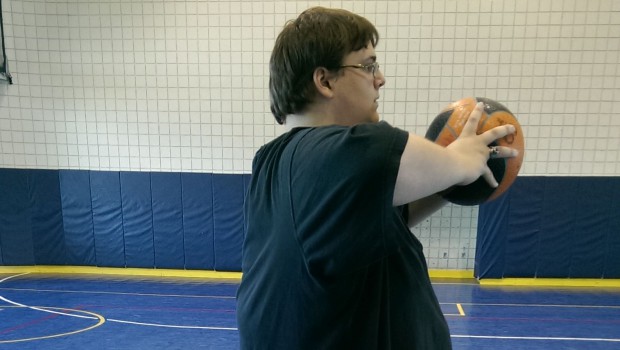 It Takes a Bit to Get Fit, But I'm Getting There.
After hitting his highest weight of 540 lbs. in June 2013, Grant Grimes, 22, of Atlanta, knew he didn't need to go on a diet, he needed to change his lifestyle. His blog series, Grant's Small Steps, shares his weight-loss journey – and he hopes – inspires others to live more Mindful.
I was obviously inspired by my Fitbit when writing this headline, and I have to say, having that little contraption by my side always helps to remind me to stay active.
I've always said that the majority of my weight-loss progress has been from a change in what and how I eat, but undoubtedly the reason I continue to lose weight is from exercise.
I always take exercise classes two days a week: Mondays and Wednesdays. There are currently eight classes I can choose from. Remember in my second blog I talked about the yoga class I took? Well, I've dared to go back. And yes, it's still quite difficult.
A lot of people who are bigger make jokes about their stomach muscles – or six-pack – being hidden under their bellies. But I honestly do feel my core now when I take yoga. Apparently, I do have muscles under there!
The hardest class I've taken is step class, which integrates cardio with strength training. We move the entire hour! Up, down, left, and right with dumbbells in hand. Trying to keep up with the instructor is a challenge, but I was happy when she told me that she was very impressed with my effort. I also enjoy cardio-kickboxing. It's super-high intensity. At my old weight, I wouldn't have even attempted it because of my knees.
Taking these classes is an amazing experience for me. I used to avoid these types of activities, because my back hurt all the time and my knees hurt a couple of times a week. But since I've lost 130 pounds, I now only have pain once in a while, or if I sleep wrong.
If I can get in these classes and push it for an hour, I know you can too! I know it hurts at first, I know it's uncomfortable at first and, honestly, sometimes throughout the whole class. But I'm telling you, you'll feel better for doing it. So, what are you going to try?
Grant Grimes is a senior at Georgia Institute of Technology and works for Sodexo as the student promotions coordinator for Georgia Tech Dining Services.