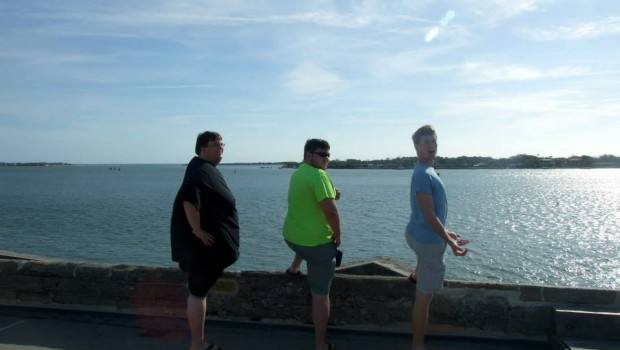 Spring break doesn't mean a 'break' from my healthy lifestyle.
After hitting his highest weight of 540 lbs. in June 2013, Grant Grimes, 22, of Atlanta, knew he didn't need to go on a diet, he needed to change his lifestyle. His blog series, Grant's Small Steps, shares his weight-loss journey – and he hopes – inspires others to live more Mindful.
I suspect anyone who, like me, has embarked on living a healthier lifestyle—whether it's by eating better foods or working out more—has worried about their efforts being derailed when they go on vacation.
Here I was, in my senior year of college with just one spring break left before graduating, and I was conflicted about going away with my friends because I was worried I wouldn't be able to stick with my healthy habits there.
Almost a year into my wellness journey, I'm very comfortable with my daily habits. In a relatively controlled environment, that is. On campus and the surrounding area, I know my options. I know the local restaurants and what healthy choices I can make at them. Plus, I have my routine of going to the gym.
But going on spring break with my friends who understandably don't want to go to the same restaurant twice, I started worrying about what I would find to eat. I'm a decently picky eater to start with, then add on top of that trying to find something healthy.
I ended up discovering Curry Grilled Chicken with Egg Noodles at a Thai place. It might not have met Mindful criteria, but at least it wasn't fried food. I also would get myself healthier snacks to enjoy throughout the day. The guys at 7-11 (which I would walk to) got to know me well. I'd go in and get a banana or almonds and be set for the day.
Another concern was drinking. Hey, it was spring break and I'm of age. So before we went, I set a limit on the number of beverages I'd have in a day (which was three). And I'd make "better" choices when I did have something to drink. I temporarily suspended my non-drinking of soda and used Coke Zero instead of fruit juice as a mixer to conserve calories.
Remember those daily trips to 7-11 I told you about?  Well, walking there became my go-to exercise on vacation. I didn't have access to a gym and there was no workout equipment at the house we were staying at. Though there was a pool, it was too small for swimming laps.
Every morning, I'd get up, make myself egg whites and whole-wheat toast, and then go for a walk.
Sometimes I'd walk on the beach—which if you have ever walked on sand you know what a workout that can be! Armed with my Fitbit, I walked at least 10,000 steps every day and one day hit 21,000.
And you know what the end result was? I lost 2 pounds that week – down 125 pounds total and counting! This was the first spring break where I actually lost weight. And you know what? I still really enjoyed my vacation.
It just goes to show that being a little Mindful goes a long way.
Grant Grimes is a senior at Georgia Institute of Technology and works for Sodexo as the student promotions coordinator for Georgia Tech Dining Services.