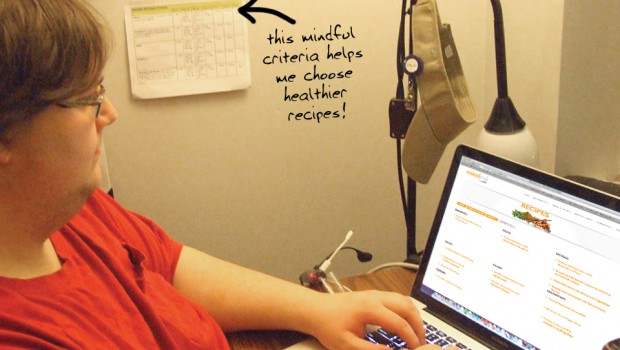 Realization: If I want to lose more weight, I need to take more small steps… literally.
After hitting his highest weight of 540 lbs. in June 2013, Grant Grimes, 22, of Atlanta, knew he didn't need to go on a diet, he needed to change his lifestyle. His blog series, Grant's Small Steps, shares his weight-loss journey – and he hopes – inspires others to live more Mindful.
Losing the first 60 lbs. happened relatively fast for me just by cutting out fast food and making better food choices. If I'm on campus, I try to get a Mindful meal or just make a selection that follows the Mindful criteria  – like a small serving of pasta with a bunch of vegetables. As much as I love cream sauce – I have to let it go since it's got a lot of fat and calories – so I get the red sauce. Then I sprinkle a little Parmesan on top.
The next 30 pounds I lost were harder to drop – even with the right food choices. I knew I could lose more weight if I focused on not only eating right but also getting more active.
My classes on campus are literally as far apart as possible. Though I still take on-campus transit (otherwise I'd never make class on time), I now get off a few stops early to get more walking into my day. I also try to get to the campus gym 2-3 times a week and work on cardio and strength-training.
I found watching the foods I eat could only do so much. I really have to exercise to burn off that body fat. With being a full-time working student, my exercise time is limited. The best cardio for me is swimming. It's extremely effective with the resistance of the water and it's easier on my back and knees. I like the elliptical too, but being in the water doesn't feel like exercise. It's fun!
I also use a Fitbit to help me track how much I'm walking. My first Fitbit came to me via a joke on Facebook. I had posted that if anybody wanted to buy me one I'd love to use it. And a friend's parent (thank you, Paul) gave me one he wasn't using. It's a great way for me to gauge how active I've been during the day.
My goal is 10,000 steps a day – and I'll keep walking until I hit it. One day when I was taking pictures at a football game, I walked over 25,000 steps!
At the beginning of this year, I started participating in the Biggest Loser program on campus. You have to commit to two 1-hour training sessions and spend at least six hours a week in the gym or at classes. I did yoga for the first time on January 22nd (a date I won't forget!). I knew it wouldn't be easy but the amount of soreness I felt was amazing. I've also tried step classes, cardio kickboxing, Zumba, extreme water fitness and cycling classes.
I don't usually set hard goals for myself in terms of how much weight I want to lose by a certain time, but there is one fitness goal I've made that is going to happen: I want to run a 5K before I graduate in May. I know I won't run the whole thing but I will finish it! I'm super-excited about it and have a whole team together.
There's one guiding principle I have through this journey: it took me 21½ years to get to where I was. It's not an overnight process to lose the weight. I'm going to get there. It's no longer a question of "if" but "when."
Please come back next week and I'll tell you what my weight was like growing up and how I recently learned to understand my food addiction – that led me to change my lifestyle.
Grant Grimes is a senior at Georgia Institute of Technology and works for Sodexo as the student promotions coordinator for Georgia Tech Dining Services.