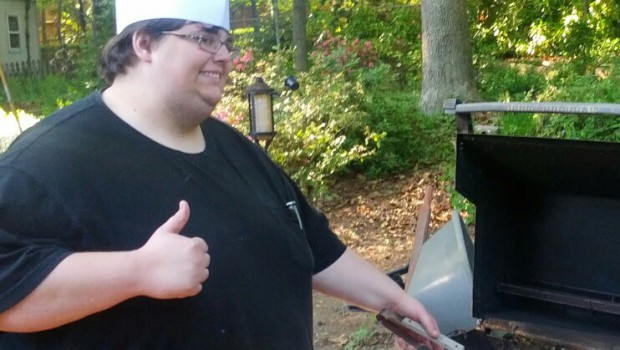 After hitting his highest weight of 540 lbs. in June 2013, Grant Grimes, 22, of Atlanta, knew he didn't need to go on a diet, he needed to change his lifestyle. His blog series, Grant's Small Steps, shares his weight-loss journey – and he hopes – inspires others to live more Mindful.
Just call me chef! This is me prior to starting my Mindful journey. (Some foreshadowing there grilling those vegetables, huh?)
What's my favorite food on this planet? French fries.
But in July 2013, I decided I had to change my lifestyle for the better. So I went cold turkey. First thing, I stopped drinking soda.
At my job with Georgia Tech Dining Services, I have unlimited access to soda. I never drank the regular stuff. It was always diet. So even though there are no calories, I'd crave that sweet taste which led to my eating other sugary stuff. Don't get me wrong – I still miss my Coke Zero. But now I walk up to the freestyle machine and get water.
It's just one little step I've taken.
What was my turning point? I had seen my doctor a couple weeks before, and though he was extremely nice to me, it was obvious how concerned he was about my health. High blood pressure. Sleep apnea. Severe lower back pain. When I didn't want to roll out of bed because of the pain – that got me realizing that things would have to change soon.
A couple days later, I was joking with one of our finance guys about going vegan. He asked if I ever tried dieting. I said, 'I've done every diet known to man. Diets won't do it – it has to be a full lifestyle change." That's when it clicked for me.
As luck would have it, right after that (while our on-campus nutritionist was on maternity leave) our summer promotions kit came in. That meant I had to go through all the new materials and help implement the programs in our dining locations.
One of those programs was called Mindful. It was this new health and wellness approach being implemented by Sodexo. I looked at all these food recipes they call "heroes," and thought, "This stuff looks awesome."
As part of rolling out the program, I also helped to train the culinary team. I watched the chef videos and read through all the materials five times. This is when I learned how important it is to adhere to the recipe to make sure the nutritional information meets Mindful criteria. I also learned how to make simple substitutions like using lemon juice instead of salt to add flavor or switching to skim milk and low-fat cream cheese.
Then the fun part: we made some of the hero recipes to sample.
I tried the Spicy Roasted Vegetable Flatbread. Believe me, I was never a person to put vegetables on a pizza but when I tasted it – it was incredible. I couldn't believe it was healthy too. I also tried the Twisted Turkey Wrap and Bistro Turkey Burger. Everything was so good.
I thought to myself: I have access to all this healthy food now. And it's not that far off from what I would normally eat. Just substituting turkey for beef and veggies for pasta. It all just came together for me. So, July 1, I started living my new lifestyle.
It's been a hard battle but so far I've lost 108 lbs.
Obviously a lot has happened since my journey started. So please come back next week and I'll start filling you in on the small steps I've taken the past eight months –and will continue to take – to live a healthier life.
Grant Grimes is a senior at Georgia Institute of Technology and works for Sodexo as the student promotions coordinator for Georgia Tech Dining Services.