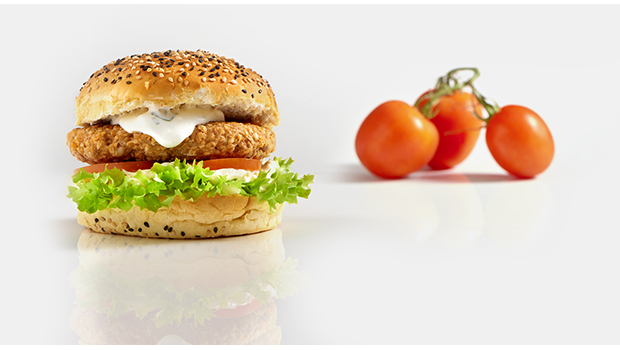 Enjoy this delicious and juicy chicken burger with fresh coleslaw!
Print
Follow Our Recipe
Ingredients
4 chicken burger à 100 g
2 hamburger bulbs
80 g coleslaw
2 little gem lettuce
100 g pomodori tomato
80 g carrots julienne
hand of coriander
4 tbsp crème fraîche
4 tbsp buttermilk
1 tbsp sunflower oil
Instructions
Preheat the oven at 180 degrees.
Bake the bulbs according to the instructions on the package.
Cut the little gem lettuce and remove any hard cores, cut the tomato into slices.
Mix the coleslaw with the carrots julienne.
Mix the coriander, the crème fraiche and the buttermilk into a sauce.
Grill the chicken burger on a backing tray with sunflower oil in 6 minutes.
Cut the sandwich and top the bottom with the lettuce and coleslaw. Put the chicken burger with the sauce. Place the top of the roll on it.
Nutrition Facts: Calories: 547, Carbs: 50.42, Protein: 31.0 Fat: 22.7, Sat. fat: 5.38, Sodium: 3.47, Fiber: 9.04