Ancho Chicken with Warm Corn, Zucchini and Tomato Salad by Ellie Krieger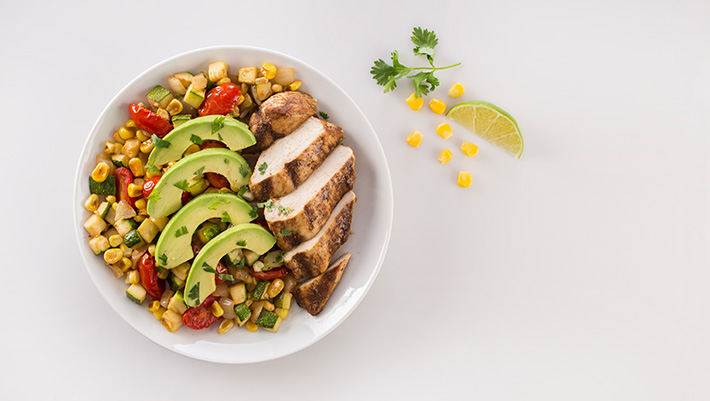 Portions: cup vegetables, 1 chicken breast and ¼ avocado
Yield: 4 servings
Ingredients
1 teaspoon ground ancho chili powder
¼ teaspoon ground cumin
¼ teaspoon garlic powder
1/2 teaspoon salt, divided
1/8 teaspoon cayenne pepper
4 thin-cut skinless boneless chicken breasts (about 5 ounces each)
4 teaspoons olive oil, divided
½ small onion
1 medium zucchini, (about 8 ounces), diced
1 pint grape tomatoes, halved
11/2 cups corn kernels (from 1 large or 2 small ears fresh uncooked corn)
1 clove garlic, minced
1 ripe avocado, pitted, peeled and sliced
3 tablespoons fresh lime juice
3 tablespoons fresh cilantro leaves
Instructions
In a small bowl combine the chili powder, cumin, garlic powder, ¼ teaspoon of the salt, and the cayenne pepper. Sprinkle the spice mixture on both sides of the chicken rubbing it in a little with your fingers.
Heat 2 teaspoons of the oil in a large non-stick skillet over a medium-high heat. Add the chicken to the pan and cook until it is browned and cooked through, about 3 minutes per side. Transfer the chicken to a plate.
Add the remaining 2 teaspoons of oil to the pan and heat over a medium-high heat. Add the onions and cook until they soften, 2 minutes. Add the zucchini, tomatoes, corn and garlic and cook until all the vegetables are softened but they still retain their shape, about 3 minutes. Season with the remaining ¼ teaspoon salt.
Divide the vegetable mixture among 4 plates. Top each with a piece of chicken and a few slices of avocado. Sprinkle with lime juice and cilantro and serve.
Nutrition Facts: